2022 Hyundai Elantra N Costs $32,295, Undercuts Veloster N by $600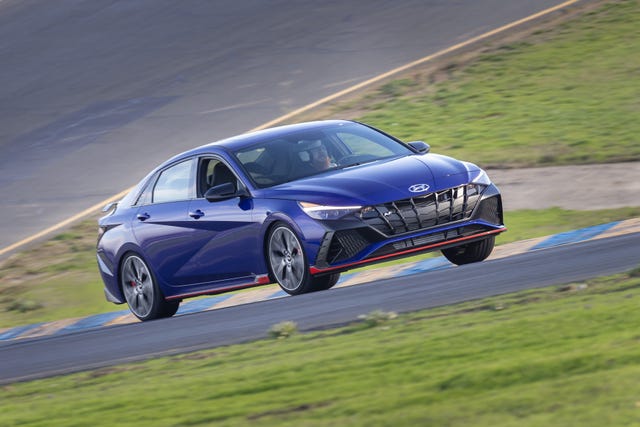 Move over Hyundai Veloster N, because there's a new entry-level N-badged Hyundai in town: the 2022 Elantra N. With a starting sum of $32,295, the Elantra N undercuts the base price of its smaller stablemate by $600. Add another $1500 to the high-performance sedan's sticker if you want to swap out the standard six-speed manual transmission for the brand's eight-speed dual-clutch automatic gearbox.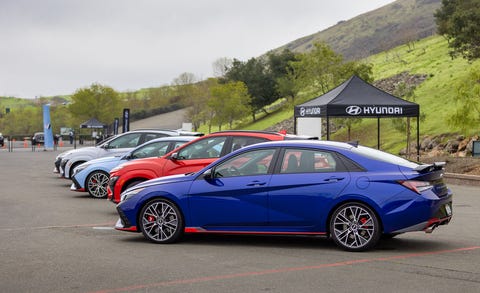 Hyundai
Regardless of transmission, all Elantra Ns rely on a turbocharged 2.0-liter inline-four that produces 276 horsepower and 289 pound-feet of torque. Both figures top those of the Veloster N, which makes do with 275 horses and 260 pound-feet of torque. If you opt for the Elantra N's two-pedal gearbox, Hyundai includes its so-called N Grin Shift feature that—when activated—allows the compact sedan's four-pot to produce 286 hp for up to 20 seconds.
Predictably, the Elantra N's larger shadow—at 184.1 inches long, it's 16.2 inches bigger than the Veloster N—nets it a slightly heavier curb weight. At 3106 pounds, the stick shift Elantra N carries 80 extra pounds of mass relative to the three-pedal Veloster N (the difference is only 49 pounds with the dual-clutch transmission).
Even with its slight weight penalty, we predict the Elantra N will nearly match the acceleration figures of the Veloster N. The most recent Veloster we tested was a dual-clutch model that hit 60 mph in 4.8 seconds and crossed the quarter-mile in 13.4 seconds with a trap speed of 105 mph. The Veloster, of course, will always have its fans for its lighter weight and more shapely styling.