2022 Jeep Grand Cherokee 4xe Hybrid Commands a Hefty Price Premium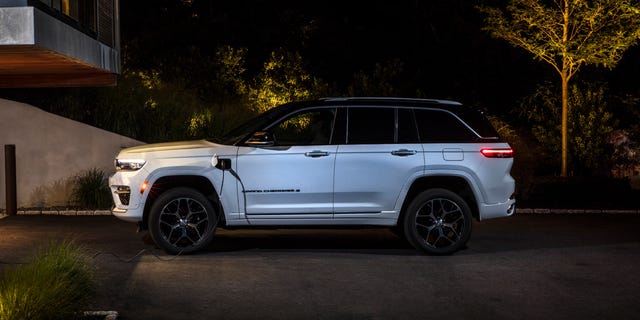 Jeep has announced pricing for the 2022 Grand Cherokee's 4xe plug-in-hybrid model.
It starts at $59,495 and ranges up to $76,095 for the loaded Summit Reserve trim.
Jeep says that 4xe models will start arriving at dealerships this spring.
Jeep's second 4xe hybrid SUV is based on the new two-row Grand Cherokee, and this plug-in hybrid will be the most expensive model in the lineup. It starts at $59,495 and offers five trim levels ranging up to $76,095 for the top Summit Reserve, making for a premium of between $8250 and $9980 compared with the nonhybrid Grand Cherokee.
All Grand Cherokee 4xe models have the same powertrain that consists of a turbocharged 2.0-liter inline-four gasoline engine and two electric motors. It produces a total of 375 horsepower and 470 pound-feet of torque and is said to provide an electric driving range of 25 miles on a full charge. That's notably more power than even the Grand Cherokee's optional 357-hp 5.7-liter V-8, and considerably more than the base 3.6-liter V-6's 293 horsepower. But the hybrid will also likely weigh more than the nonhybrid model owing to its battery pack and other extra hardware.