2022 Nissan Frontier Rally Truck Has NISMO Off-Road Parts, Retro Livery
This one-off Frontier Pro-4X wears a red, white, and blue wrap inspired by '80s Nissan off-road racers and will compete in the all-female Rebelle Rally.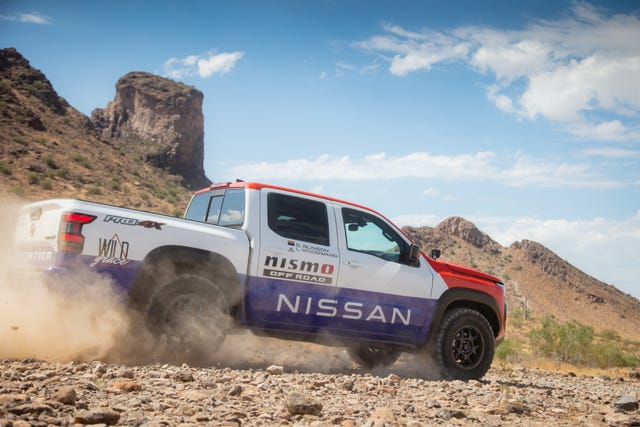 After undergoing a generational transformation, the 2022 Nissan Frontier will also appear as a one-off rally truck that pays homage to the brand's Hardbody off-road race trucks from the 1980s. It'll compete in October in the all-women's 2021 Rebelle Rally, which is said to be the longest off-road rally in America.
For anyone who's unfamiliar with the Nissan Hardbody trucks that raced in the '80s, they were very successful and had a distinctive red, white, and blue livery. A very similar visual treatment is seen on the new Frontier racer, with a wrap that covers the front end and rooftop in red and splits most of the sides and the rear with white and blue colors. A smattering of decals call attention to its Nissan branding and assortment of parts from NISMO, the company's motorsports division.
Among the myriad parts courtesy of NISMO are 4.0-inch lights mounted high on the Frontier's cowl, a performance exhaust system with a chome-tipped tailpipe, and an off-road-oriented suspension kit. The rally-ready mid-size pickup truck also rides on special 10-spoke, 17-inch wheels shod with BFGoodrich All-Terrain T/A K02 tires.
The '22 Frontier used for the rally is based on the already rugged Pro-4X model. We drove one in Utah and appreciated the new truck's much improved interior, enhanced features, and overall refinement compared with its predecessor. Every Frontier features a 310-hp 3.8-liter V-6 and a nine-speed automatic transmission. The Pro-4X comes standard with all-terrain tires on 17-inch wheels, an electronically locking rear differential, Bilstein dampers, underbody skid plates, and four-wheel drive (the Pro-X is a similar-looking rear-drive version).
Nissan's Team Wild Grace will race the retro-themed Frontier in the 2021 Rebelle Rally that spans eight days and covers more than 1500 miles of desert between Nevada, Arizona, and California. The rally starts on October 7 at the Hoover Dam in Nevada and ends on October 16 in California's Imperial Dunes.