2022 Toyota Tundra Hybrid Beats Old V-8 by 7 MPG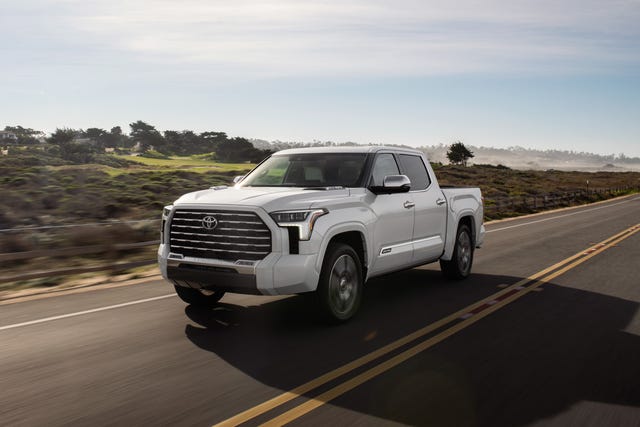 The 2022 Toyota Tundra replaces the previous model's 5.7-liter V-8 in favor of a twin-turbocharged 3.4-liter V-6 engine for the sake of efficiency. A nonhybrid version of the V-6 is standard and a iForce MAX hybrid setup is optional, and we now have official EPA fuel-economy estimates for the gas-electric Tundra. Although the hybrid is not as efficient as the Ford F-150 PowerBoost hybrid, it's a huge improvement over the old Tundra.
At an EPA-estimated 22 mpg combined for rear-wheel-drive models and 21 mpg for four-wheel-drive trucks, the Tundra's hybrid powertrain is 7 mpg more efficient than the outgoing model's 5.7-liter V-8. It's rated at up to 20 mpg in the city and 24 mpg on the highway in its two-wheel-drive configuration, though adding four-wheel drive knocks 1 mpg off in the city and 2 mpg on the highway.
The F-150 PowerBoost hybrid is 3 mpg and 2 mpg more efficient than the Tundra iForce MAX, per the EPA's standards. Both the F-150 PowerBoost and Tundra iForce MAX use a twin-turbocharged V-6 engine and roughly 1.5-kWh battery packs, but the Ford's pack is a lithium-ion unit and the Toyota's is a nickel-metal hydride pack. The Tundra's electric motor is sandwiched between the engine and 10-speed automatic transmission and adds 48 horsepower for a total combined output of 437 horsepower and 583 pound-feet of torque.