2023 Genesis GV60 EV Will Offer AWD, Up to 429 HP, Lots of Tech
The luxury brand's first EV is set to arrive in the U.S. in 2022, and the specs are similar to the Hyundai Ioniq 5 and Kia EV6.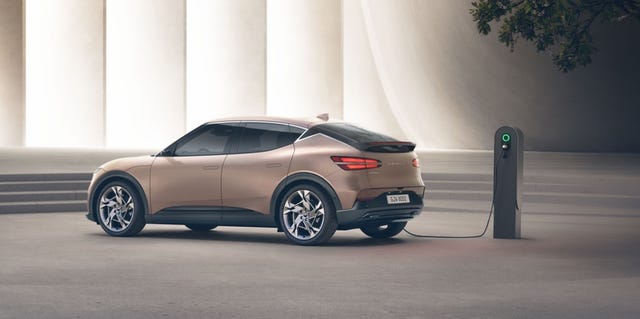 After showing off the look of its first EV last month, Genesis is now sharing more specifications for the 2023 GV60. Set to go on sale in the U.S. next year, this new electric model shares its E-GMP platform and various powertrain setups with the Hyundai Ioniq 5 and Kia EV6 but promises a more luxurious interior than those mainstream models.
The GV60 will be offered only with the larger of the two battery pack options from the Hyundai and Kia, which measures 77.4 kWh. Its base rear-wheel-drive one-motor powertrain makes 225 horsepower and 258 pound-feet, while the dual-motor all-wheel-drive model has 314 horsepower and 446 pound-feet. Genesis will offer a performance dual-motor model as well, which has 429 hp and 446 pound-feet and claims a zero-to-62-mph time of 4.0 seconds.
While we don't yet know about U.S.-specific EPA range ratings for the GV60, Genesis is claiming that the RWD model offers the most range, at 280 miles for the Korea-market version. The AWD version drops that claim to 249 miles and the performance model offers the least range, at a claimed 229 miles.
New tech features available in the GV60 include facial recognition software that can unlock and start the car without a key when combined with fingerprint readers on the door and dashboard of the car. There's also an interesting shifter that's styled to look like a crystal ball. Genesis says it has used recyclable materials for the interior from fish nets and plastic bottles.
We'll learn more U.S. details about the GV60 in the coming months, such as EPA efficiency numbers and pricing. We expect it to start somewhere around $55,000.