2023 Nissan Ariya Prices Range from $47,125 to $60,125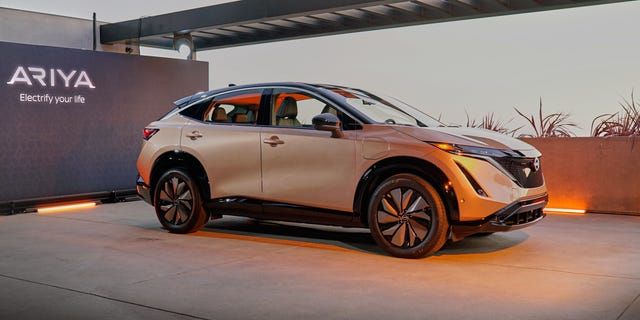 Deliveries of the new 2023 Nissan Ariya are still a ways off, but Nissan is opening reservations, releasing pricing, and sharing a few more specs for this new electric crossover model. The Ariya starts at $47,125 for its base front-wheel-drive Venture+ version with a claimed 300 miles of range, while the loaded all-wheel-drive model with a claimed 265 miles of range costs $60,125.
Other than the base trim, the other Ariya models available for reservations include Evolve+ ($50,125), Premiere ($54,625), and Platinum+ ($60,125). Venture+, Evolve+, and Premiere models have a single-motor front-wheel-drive setup with 238 horsepower and 221 pound-feet of torque, while the Platinum+ has a dual-motor all-wheel-drive setup with 389 horsepower and 442 pound-feet of torque. Nissan claims a 60 mph time of 7.2 seconds for the FWD model and 4.9 seconds for the AWD model.
All Ariya models will be initially available with a battery pack with 87.0 kWh of usable capacity. The Venture claims 300 miles of range, while the Evolve and Premiere claim 285 miles of range. The more powerful, AWD Ariya Platinum has the lowest range estimate of 265 miles.
These specs are comparable to other EV crossovers such as the Ford Mustang Mach-E and Volkswagen ID.4, but the Nissan is on the higher end of the spectrum both in terms of price and estimated range. The VW starts significantly lower than the Nissan, at $41,190, but only offers up to 260 miles of EPA-estimated range. The Ford, our 2021 EV of the Year, starts at $43,995 and offers between 260 miles and 305 miles of EPA-rated range depending on configuration.