A Hilux Revo Owner's Experience With Toyota After-Sales Services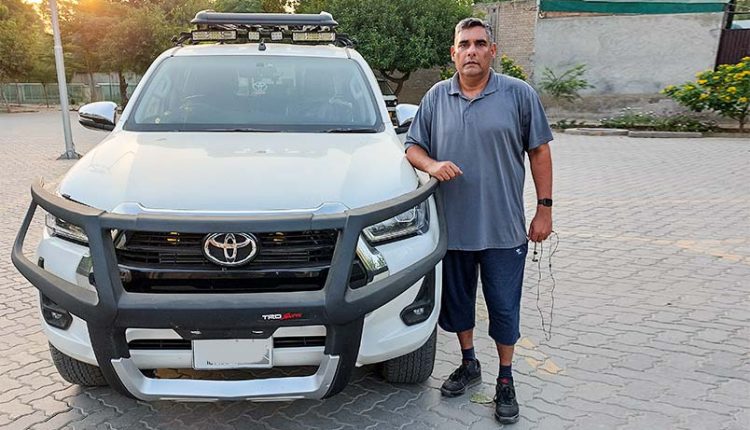 Kashif Naim is a farmer and solar agricultural expert in a small town in Southern Punjab. He has been driving off-road vehicles all his life. From Suzuki SJ410 to Dihatsu Terios and Toyota Hilux Revo, he has all the off-roaders on his fingertips.
I want to share my experience of buying engine oil for my brand new Toyota Hilux Revo V 2.8 Diesel. But first, let me tell you a few things about myself.
I am a Toyota lover. In fact, this Hilux Revo is my sixth Toyota vehicle.
I have a bad habit of reading the owner's manual of any vehicle that I buy, which, according to my friends, is a criminal offence in Pakistan.
I live in a remote small-town, so I have built up my own inventory with original auto parts and lubricants.
First Free Inspection Service
Anyway, I received a call from Toyota for the first free inspection of my Revo. Feeling privileged, I went to the Toyota outlet where I had bought my vehicle. But I didn't leave the car there. I was excited to learn about my new vehicle and experience the professionalism of Toyota, so I decided to stay at the workshop.
To my disappointment, it was a complete showoff. No torque wrench was used. Two guys were over-tightening the nuts and bolts. No one came to ask me about my experience with the car. They didn't even have a parking spot, and the guys were just moving the car to and fro. That's pretty much how the "first free inspection" went.
Finding the Right Lubricant
Then I thought of buying some filters and lubricants for my new Revo. I had learned from the manual that the recommended engine oil grade was 5W-30 CF to CF-4. But they told me 5W-30 was not available for a long time. I should either go for 10W-40 or 20W-50. After a little while, I realised that they were more interested in sales and less bothered about the health of my vehicle. I just bought the filters and came back home.
After a day or so, I received another call from Toyota about my experience, which was again a nice gesture. I thanked them for the free service ignoring the staff incompetence but inquired which engine oil to use. I was told the 5W-30 Toyota Taglon is the most suitable. I bought it online and received the cartons.
To my surprise, it was clearly mentioned on the packs that 5W-30 Toyota Taglon was SN grade gasoline engine oil. I called the Toyota Indus helpline for my complaint. I was confirmed not to use Taglon, and that my request for engine oil suggestion was being looked into. They told me to wait for them to get back to me. No contact up till now from Toyota!
Now I was on my own, checking Caltex, Shell, Total, PSO, Castrol, Mobil, Liqui Moly and a couple of other oil companies, but the 5W-30 diesel grade was nowhere to be seen. I found 5W-30 CF at Shell Helix, but they clearly told me that it is purely gasoline oil and not recommended for a brand new diesel engine.
After long research, I could screen only two oils available in Pakistan that were diesel grade 5W-30. One was FUCHS Titan Cargo 5W-30, and the other was Mitasu 5W-30 CI-4. FUCHS Pakistan was not able to confirm its API grading. So I was left with Mitasu Japan. Their reviews were quite satisfactory, so I ordered the Mitasu 5W-30 CI-4, hoping it would perform well and get me out of my misery.