BMW i4 eDrive40 M Sport 2021 UK review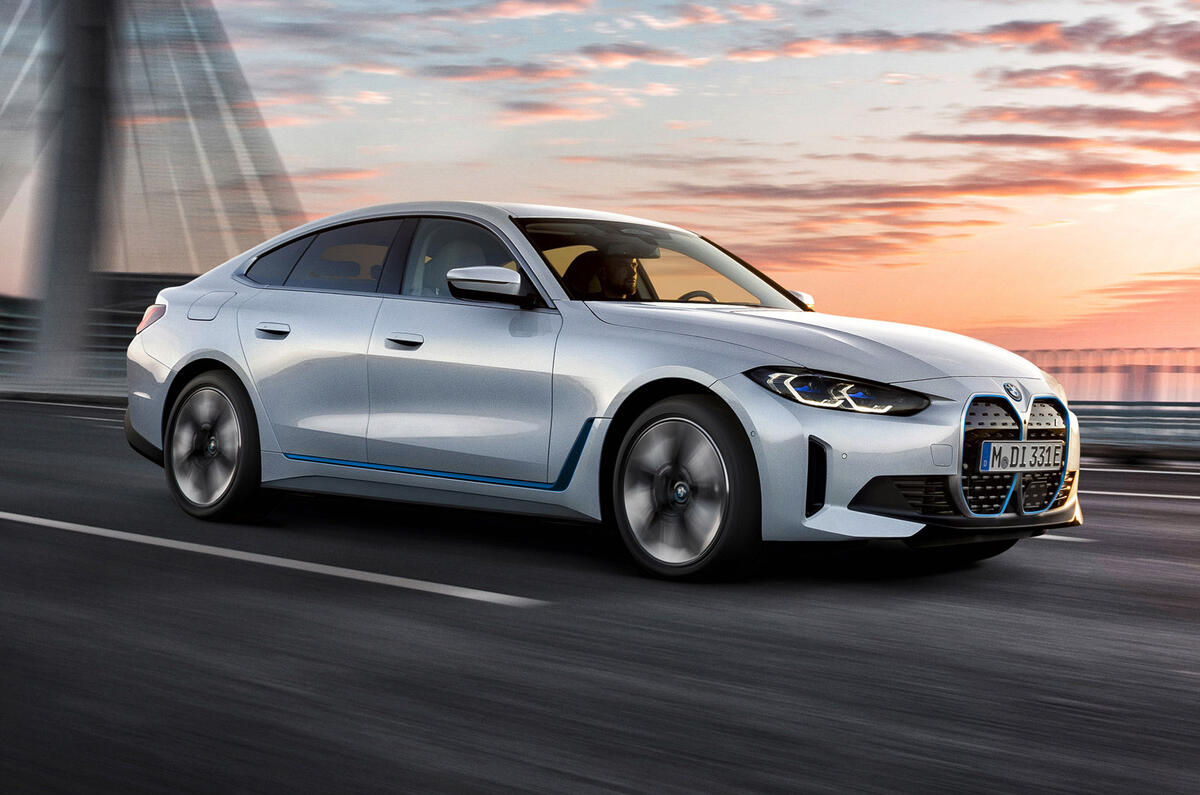 What is it?
BMW's first mid-sized electric saloon seems to have been a long time coming, even if it's nearly nine years since the company started its EV journey with the pioneering i3 hatchback way back in 2013. 
In truth, it appears to have been that i3 experience that has slowed BMW's move into the mainstream EV market, to challenge established arrivals from Tesla, Porsche and Mercedes. Whereas the i3 was a courageous and radical little car that didn't quite work (and neither did its equally novel supercar stablemate, the i8), this new i4 sits at the other end of the engineering and styling spectrum. 
Instead of taking the I'm-electric-so-I'm-different route, it adopts a judiciously modified version of a well-proven platform, already used for conventional 3 and 4 Series models, and also adopts relatively familiar Gran Sport four-door body styling that looks sleek and sporty but doesn't frighten the horses. Not that the i4 is any the worse for this corporate pragmatism: it's a thoroughly attractive, ideally sized and well-proportioned car. But it is fascinating to see that BMW now believes buyers of mid-sized EV saloons, many of them business user-choosers, are already taking a big enough step in ditching ICE, and don't want to be challenged to adopt an unsettling new look and body layout as well.
The i4 has just about the same proportions and road footprint as a 3 Series. Its tracks are a little wider, and its centre of gravity is lower largely because the battery is mostly carried under the floor (and a little bit in what used to be the transmission tunnel). 
Step closer and differences become obvious. Long accents on the body sides give the car its own character and advertise the presence of the 80.7kWh (net) lithium ion battery. At the front, there are very thin LED headlights either side of an angular, technical-looking iteration of BMW's kidney grille, similar to that used on the new iX SUV. In the i4's case, the grille is almost completely blanked off because electric cars need less cooling. Instead, it provides an excellent home for the car's various forward-looking cameras.
Given the performance and range, our test car's kerb weight of 2125kg doesn't look too bad against competitors. BMW says the i4's battery, assembled with the rest of the car in Munich, is now 40% more energy dense than that used in the pioneering i3 because its cooling, packaging and chemistry are all better. It also uses no rare earth constituents and is made entirely by renewable energy.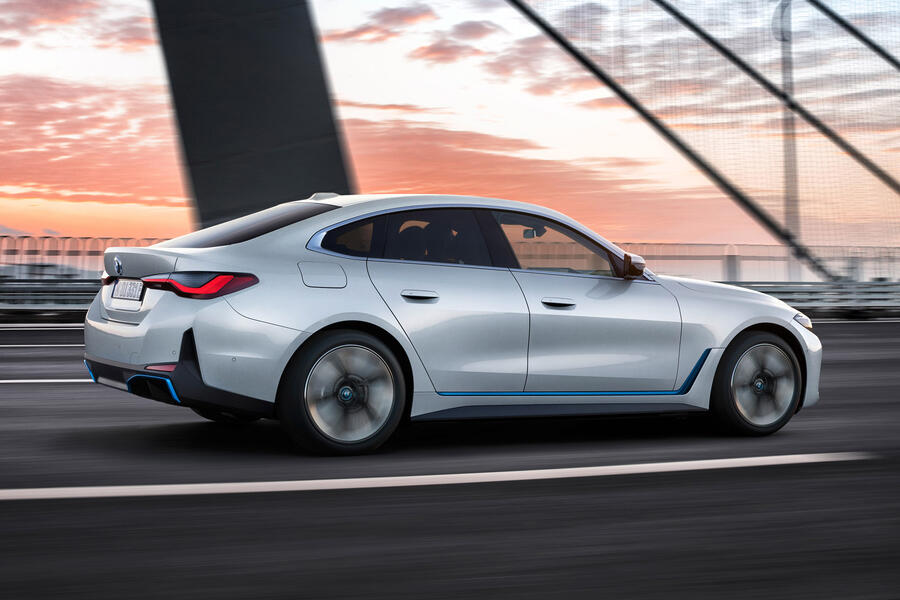 What's it like?
Step into the i4's cockpit and you find a mix of familiar and impressive new components. The driving position, the standard sports seats and most of the controls and switchgear are familiar from 3 and 4 Series, but there's a huge, sweeping glass instrument display, angled towards the driver, that provides a plethora of driving data and infotainment can be set up in a variety of different configurations. The iDrive system is BMW's eighth iteration, now quick and intuitive. The whole cabin has an aura of quality and comfort, and you sit quite low in the car (as with other Gran Sport models) so it feels sporty from the outset.
The cabin is perfectly spacious enough for its front occupants – in their standard sports bucket seats – but full-sized adults in the rear are rather constrained on knee and head room by the rakish lines of the Gran Sport body design. Kids can cope perfectly well, though.
Most important, this i4 drives like a BMW. The steering and pedal efforts feel familiar, if you discount the fact that there are no gears and allow for the instant torque of this single-motor fifth-generation eDrive system. The car accelerates swiftly and silently, as we've come to expect from the latest EVs.
When you lift off, you have the choice of a 'sail' coasting mode or another that provides a high level of regenerative braking, although there's nothing in between. The powertrain is instant, powerful and nearly silent, especially after you've found the centre-screen menu that dulls the artificially configured 'sound of motion'. Like most BMWs, the car generates a degree of road noise on the UK's coarser Tarmac roads but copes with bumps in a quiet and refined way.
Best of all, the i4 eDrive 40 rides well. It's sporty but comfortable, with barely a hint of the pitch and uncontrolled jiggling that seems to affect some EV saloons. BMW has clearly put considerable effort into developing the EV version of this platform (in both Sport and Comfort modes) for what is an unusual weight distribution compared with the ICE versions made alongside it.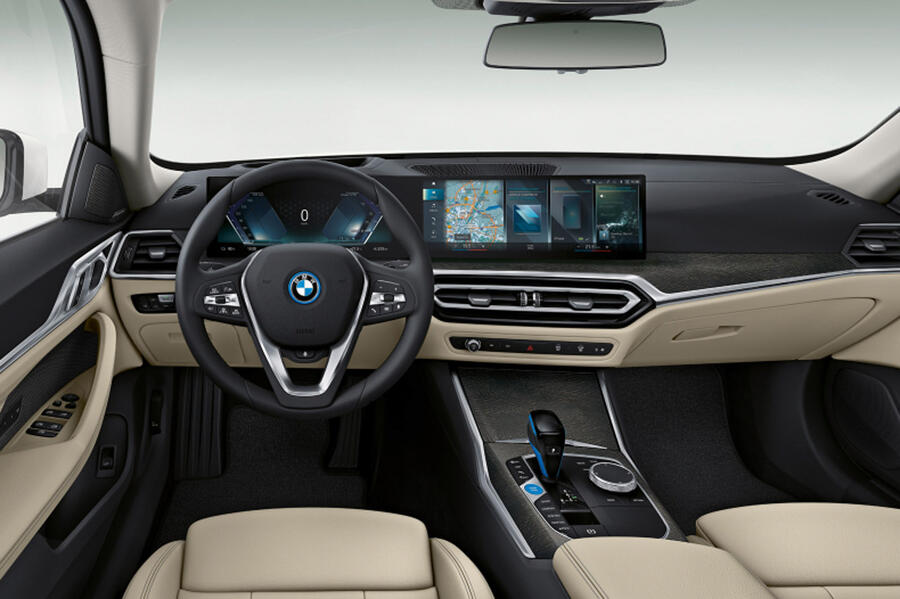 Article continues below advertisement Back to top
Should I buy one?
The result is a quick and effortless car, still with the driver focus of other BMWs, but also with the silence and serenity of other electrics.
At least from a sales point of view, the eDrive40 feels exactly like a car into which a traditional BMW saloon driver can boldly step, having made the big decision to embrace EV motoring. And that, clearly, was always the i4 plan.