BREAKING- KIA Stonic to be Launched in 2 Variants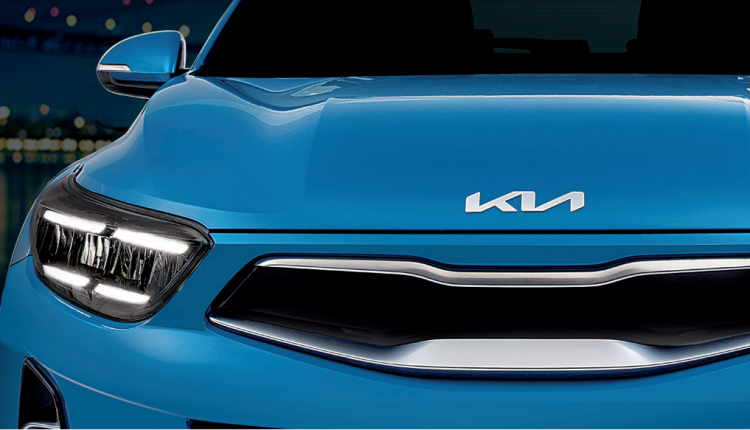 The Crossovers/Sports Utility Vehicles segment is the name of the game, and everybody is in with their players. And now KIA Lucky Motors is here with its player, KIA Stonic.  Every car brand globally has brought the latestSUVs, but the market still has an appetite for more, and the same applies to our Pakistan market. 
After the launch of Sportage and Sorento in Pakistan, KIA Lucky Motors/ KLM was working on bringing another crossover, and we have already known about it for quite some time now, "THE STONIC". As per KIA, STONIC is derived from SPEEDY and TONIC, the first and last notes on a musical scale. On the KIA model portfolio, Stonic is the smallest crossover that sits two steps down under Sportage.
The current Stonic is the first generation model. The car was first introduced in September 2017 and got a facelift in October 2020. As of now, Stonic is assembled in South Korea and China and exported to various countries. Pakistan will be the third country to assemble this car for the local market.
Pakistani Launch Updates
As per unofficial information, KIA Stonic will be revealed within the next few days and most probably by the end of this week. Although the model is not officially revealed, we were able to get hold of the official specification for the Pakistan bond Stonic. The PK domestic models will be available in two variants, "EX" and "EX +". Here is this article; we will quickly go over features and options for our readers.
Dimensions
KIA Stonic is a sub-compact B-segment crossover. Under the skin, Stonic is identical to the KIA Rio hatchback. In fact, Stonic is a Rio hatchback on steroids, a taller and lifted version of Rio. Stonic is 4140mm long, 1760mm wide, 1520mm tall and has a wheelbase of 2580mm. For comparison, MG ZS is 4323mm long, 1809mm wide, 1653mm tall and has a wheelbase of 2580mm. MG ZS is overall longer and wider but has the same size wheelbase as Stonic.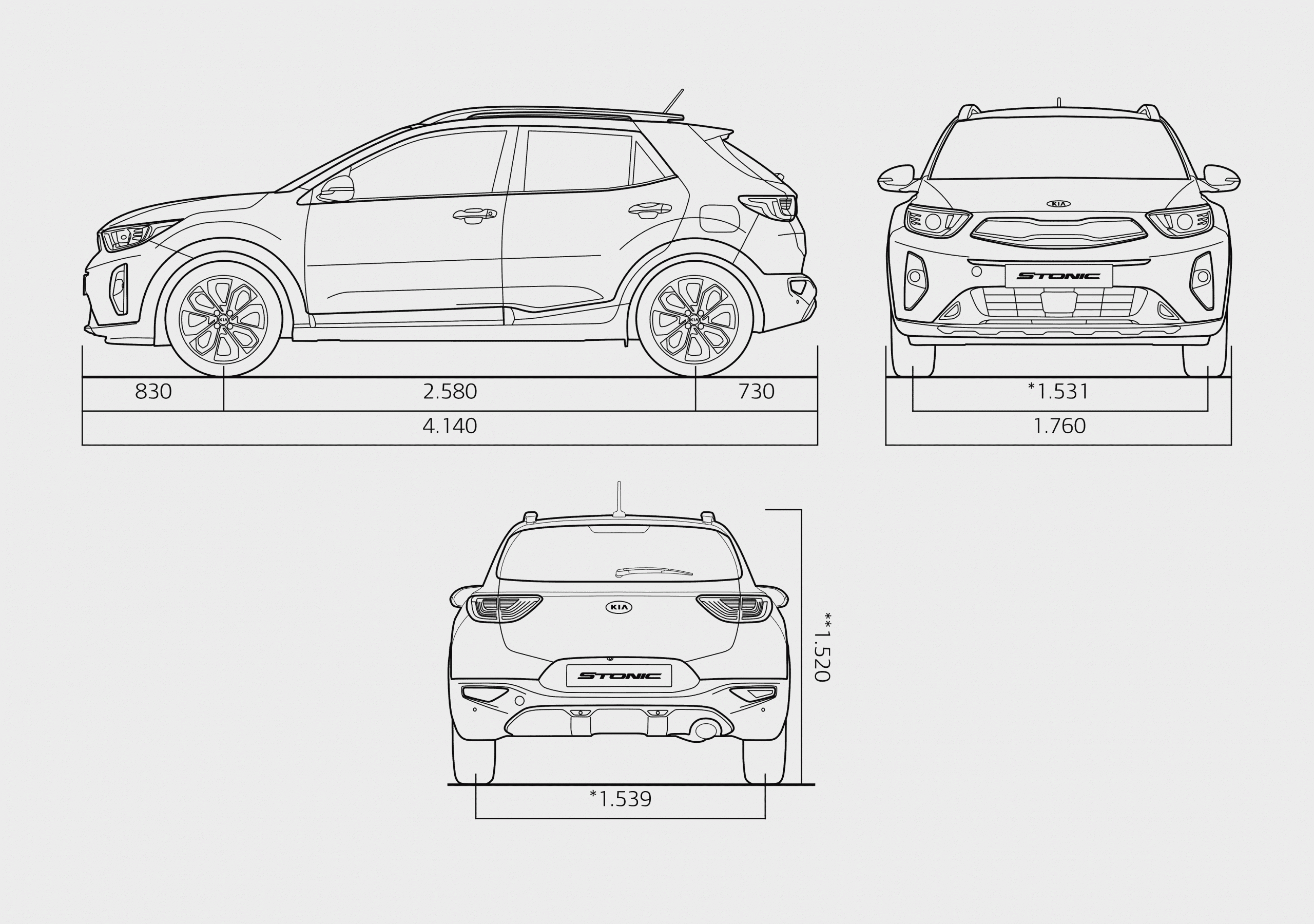 Exterior
Pakistan will get the facelifted KIA Stonic. It has design elements like black plastic cladding around bold wheel arches, side skirts, roof rails, bigger wheels, and a lifted body that give the car the impression of an SUV for a compact body. There is a typical KIA tiger-nose grille and horizontal character lines upfront with parallel lines down the bonnet. Stonic has been designed with urban living in mind. That's why you see the messaging "SUV for the City" printed in all the marketing material and ad. campaigns.
The first thing you will notice is that the Stonic will be launched with the new brand identity of the KIA, and that can be seen with the new logos on the front and rear. EX variant will come with Matte Black front grille, Bi-Function projector headlights and LED DRL's on front. The EX+ will have LED headlights with 4-strip horizontal LED DRLs while the front grill becomes a piano black. Both variants will come standard with a projector fog lamp in the lower bumper.
Other Standard features in the car are Turn signals on the power-adjustable, retracted, and heated side-view mirrors, body-coloured door handles, pole type radio antenna, skid plate on the rear bumper, the high mounted stop lamp, rear fog light, and auto headlights. Although most features are shared between variants, the roof racks and rear LED combination lamps are only available on the EX+ . The EX will be offered with 185/65R15, while EX+ will come with 195/55 R 16 alloy wheels.
Interior
Interior-wise, KIA Stonic might not look as fancier as the current newer generation SUVs because the Stonic is almost 4 years old. Hard plastics are everywhere, but we can expect a better build quality as seen with the other KIA local products. Although the vehicle is smaller, interior designed packaging will give enough space on the front seats. Rear seats might be tight for three adults; kids will do fine.
The dashboard has horizontal lines and surfaces to give a wider look and openness. Regardless, the PK bound Stonic will come loaded with features at the same level as we have seen on the international model. We can say that KIA has left no stone unturned as far as features and options.
The EX will be offered with all black single tone dashboard, although the EX+ will be available with two-tone gray+ yellow trim pieces for a sporty appearance. Both variants will carry a Bluetooth capable 8″ floating infotainment system capable of Apple Car-play & Android Auto. There will be an automatic climate control with a digital display as standard.
The EX will come with a standard round Poly-urethane steering wheel while EX+ will be offered with a sporty looking leather-wrapped D-Cut/ flat bottom design; additionally, both steering wheels will be equipped with phone and media controls. There will be a standard conventional analogue instrumental cluster. The EX+ will come with a 4.2″ TFT display, while EX will be available with a 3.5″ display to reflect different vehicle-related information like mileage, e.t.c.
The EX will be available with fabric seating surfaces, while the EX+ will be available with a combination of faux leather+ fabric. Driver seat adjustment will be available on the EX+ only. EX+ will also be available with the sunroof and the automatic Electro-Chromic rearview mirror, and metal liners on the brake and accelerator paddle.
Smart entry, Illuminated vanity mirrors both for driver and passenger, 6 speakers, 60:40 folding rear seats, sunglasses holder, luggage area lamp will be standard on both models. But the cruise control, push-button start, central console box will be available only on EX+. Both versions of Stonic will come with a rear screen wiper and defogger, while the front screen will be equipped with an automatic defogging system.
Mechanical
Stonic is available in multiple engine options depending upon the market overseas. As we already predicted and reported previously, the Pakistan assembled model will be offered with a 1.4L [ 1368cc ] Multi-Port Injection/ MPI engine with front-wheel drive. This naturally aspirated engine with a compression ratio of 10.5 produces 98HP @6000 RPM. The top torque of 133NM is at 4000 RPM.
Both variants of Stonic will be available with conventional 6-speed automatic transmission. Stonic is a Front Wheel drive only, and there is no option of All-Wheel Drive. Electric power steering, ABS comes standard. And if we talk about suspension in the car, it will have McPherson strut on the front while it seems there is some error in the rear suspension setup, reflected on the official specification sheet. Sonic globally comes with a Torsion beam on the rear standard on all versions and variants, but the PK bound Stonic spec sheet calls of Multi-Link; it seems this is an error, and an official clarification will be required.
Safety
When it comes to safety, the PK domestic Stonic wins with flying colours. Stonic chassis uses high strength steel resulting in a rigid structure for improved crash resistance. The chassis also uses special structural adhesive for improved bonding of structural components, lightweight and less noise. 6 airbags [ driver, front passenger, side+ curtain ] will come standard on both variants. Hill-start assist, Vehicle stability control as well TPMS/ Tire pressure monitoring system will also come standard. Parking sensors on front and rear, rearview camera will be available only on the EX+
Complete Spec Sheet
Below you can find full in-depth comparison between the two variants.
Pricing
While we know almost every bit of technical detail for the upcoming Stonic, unfortunately, the million-dollar question remains unanswered, and that is the PRICE? In recent months, there had been a lot of confusion when many automotive enthusiasts started placing Stonic next to the C–segment sedans like Corolla, Elantra, and Civic as far as comparison and pricing.
KIA Stonic is a B-segment entry-level model based on a compact Kia Rio hatchback. It should not be compared with C-segment cars nor priced like them. KIA Lucky Motors first brought Sportage to compete with the C-segment vehicles, and we have seen that Sportage successfully converted the sedan buyers to Sportage.
Moreover, KIA is doing it again in the shape of the B-segment crossover, Stonic. This time, KIA's target should be the entry-level small sedans, Yaris, City, and Alsvin, which is the right place for the target segment. Stonic can definitely turn tables and hurt the sales of these competitor B- segment sedans, provided it is priced correctly. We should also not forget about Honda BR-V , which offers more space , utility with more powerful engine at lower price although it has not been doing any wonders lately  as far as sales statistics. 
As of now, the rumour mill suggests that the price of Stonic will slot between PKR3.5 Million to 4 Million range. I personally understand that Stonic is equipped with features and options which are new and first time in the segment. Still, we should not forget that pricing it near PKR4 million might put it right next to the Corolla, Civic and buyers of these sedans might not switch to a smaller sized Stonic regardless of the features and options. The Corolla and Civic buyers in the market already look towards Sportage, Tucson, Proton X70, MG HS and other similar-sized crossovers as an option by increasing their budget, and we have seen that trend in recent times.
Furthermore, Pricing Stonic near PKR4 Million will also filter out the potential and possible B-segment [ Yaris, City ] customers as it will make it out of their reach. Anyone with PKR4 Million would obviously also consider sedans, which makes the decision tricky in favour of Stonic. Placing Stonic at PKR3.5 Million and under will be the right approach and can definitely help gain good sales. Again this is my personal opinion. We will know about official pricing within the next few days.