EV Maker VinFast Plans Two Electric SUVs Styled by Pininfarina
The Vietnamese company's ambitious plans for North America include SUVs with up to 422 miles of range to be marketed in a Tesla-style direct sales format.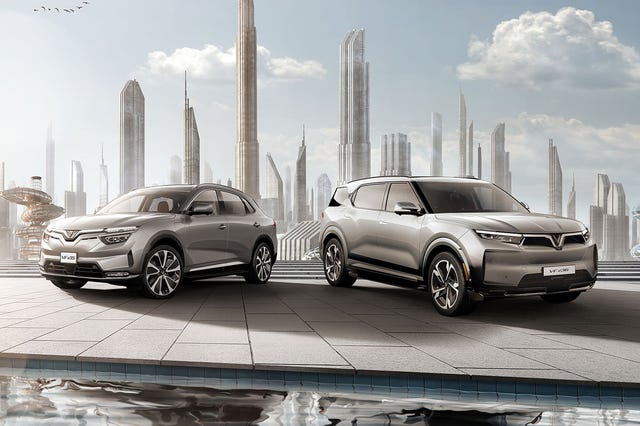 After announcing Los Angeles as its home base for a new North American operation, Vietnamese automaker VinFast is turning its sights on launching two new electric SUVs. The company's ambitious plans include production models of the compact VF e35 and the mid-size VF e36. Both wear stylish bodies designed by Pininfarina and boast claimed driving ranges as high as 422 miles per charge.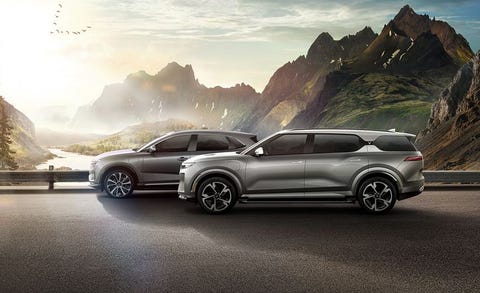 Two different sized battery packs will be available on each model. The compact VF e35 will come standard with a battery that should deliver around 285 miles per charge but a larger battery with up to 310 miles of range will be optional. The mid-size VF e36 will come with either a 301- or 422-mile range.
VinFast Global CEO Michael Lohscheller told Car and Driver that the company's first two EV models will initially be produced in Vietnam and imported to the U.S. and Canada, but that there is a plan to localize production in North America starting in the second half of 2024.
Lohscheller also detailed the company's European plans, which includes launching these battery-electric models in Germany, France, and the Netherlands. While he wouldn't comment on sales goals for either continent, Lohscheller acknowledged the plans are ambitious.
"More important is we launch a brand and I think that is a very important and also careful exercise," he said. "Obviously everybody has ambitious volume including ourself, but for me most important is that we position the brand right. Get our first customers very excited, very happy about that. That matters more than any sales volume."
VinFast was founded in 2017 and, according to a report from Reuters, sold 30,000 vehicles in its home market of Vietnam in 2020. That same report said the company has not yet turned a profit and suggested an initial public offering in the United States could provide funds needed to help get the brand off the ground. VinFast is part of the larger Vingroup empire, shouldered by billionaire entrepreneur Pham Nhat Vuong.
As shown at the 2021 Los Angeles auto show, the VF e35 and VF e36 look fairly complete, but similar to other upstart automakers showing production-intent concepts, they need a bit more polish before heading to production. The interior of the e35, also styled by Pininfarina, appears to be stylish and comfortable–although we were unable to sit inside it at the show. The e36 doesn't appear to be as close to being production ready as the smaller model, as it was displayed without an interior at all.
"Our biggest push initially will be on simplification and safety," said David Lyon, director of design for VinFast. "We don't have a traditional gauge cluster like most OEMs. Our vehicles all have a full-color, windshield-projection head-up display. It's a very open, spacious interior. You interface with the steering-wheel controls to operate the vehicle, your hands are on the wheel, and your eyes are on the road."
VinFast won't have a traditional dealership sales model; instead, it's looking to adopt a direct-sales model as pioneered by electric-vehicle rival Tesla. Reservations open in spring 2022 and deliveries are said to be on track for fall 2022. Early adopters can also expect a sort of concierge-style servicing model for their cars where a traveling technician can meet up to perform repairs or maintenance.