Honda CD 70 & CG 125 Easy Installment Plans with 0% Mark
Honda CD 70 & CG 125 Easy Installment Plans with 0% Mark
As the prices of two-wheelers continue to rise, purchasing them with cash has become difficult for the average person. For instance, the current price of a Honda CD 70 is Rs. 154,900, making it unaffordable for many middle-class individuals in the midst of high inflation and an unstable economy. Moreover, companies are finding it challenging to sell these high-priced two-wheelers. To address this issue, companies are now offering installment plans for consumers, and remarkably, with 0% markup. The customers, who seek buying Honda bike, they can avail this Honda CD 70 & CG 125 Easy Installment Plans with 0% Markup.
Honda's installment plans are similar to those previously introduced by Yamaha and come in partnership with Bank Alfalah. The offer is only available on Bank Alfalah's Credit Cards, and while the markup is 0%, the bank will charge a 2.5% processing fee of the product's price and Federal Excise Duty (FED).
Installment Plan Details
Honda CD 70: The plan for Honda CD 70 is available for up to 36 months with Rs.6,948 installments per month. However, 0% markup is only available on 3 and 6-month plans with Rs.49,967 and Rs.24,983 monthly payments, respectively.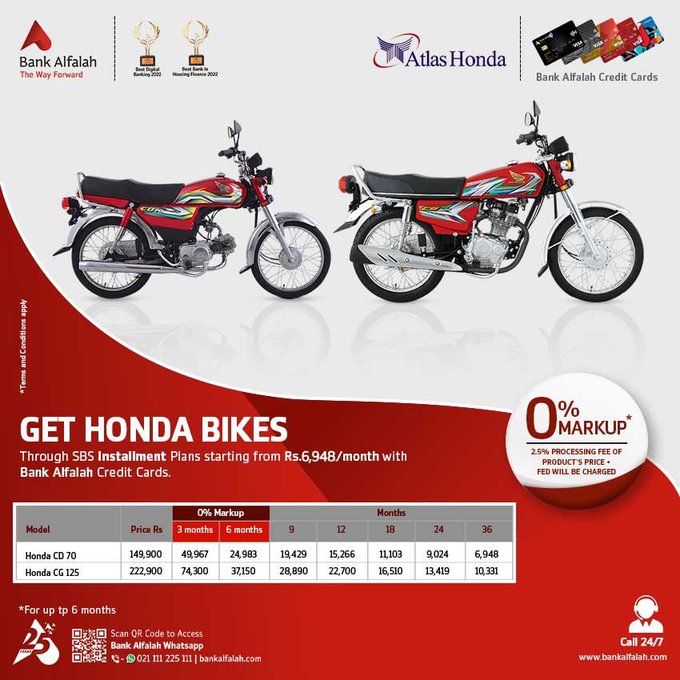 Honda CG 125: The plan for Honda CG 125 is also available for up to 36 months with a Rs.10,331/month installment. Similar to the CD 70, 0% markup is only offered for 3 and 6-month plans with Rs.74,300 and Rs.37,150 monthly installments, respectively.This is an excellent opportunity for those interested in purchasing a Honda CD 70 or CG 125, but do not have cash on hand. However, this offer is only available to Alfalah Bank customers.