"Honda CD 70 Dream Has Great Looks & Fuel Average", Owner's Review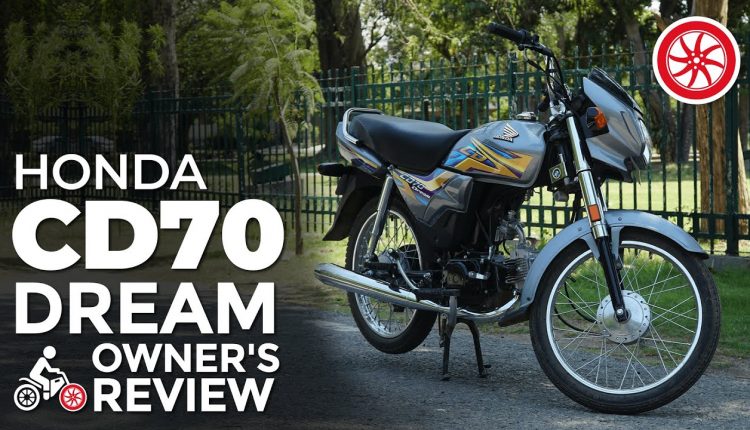 In this owner's review, we are going to review Honda CD70 Dream. If we talk about the history of CD 70, the bike was launched in Japan in 1970, while it came to Pakistan in 1991. The upgrade version of this bike named CD70 Dream was launched in 2014 in the local market.
Price and Buying Decision
Sharing the reasons for buying this bike, the owner told us that he loves its front look and it is very good choice in this price range. He further said that he bought this bike for Rs88,500. " I searched other bikes, but I loved this model mainly due to its looks, exterior colour and fuel average," he said.
Fuel Average
The owner has driven this bike around 1,600 kilometres, and as per him, the fuel average of this bike is 60-65 kilometres/litre. "On long route, if you ride it on normal speed, its average is same, but on higher speed, its average drops to around 50-55 kilometres/litre," the owner told us.
Major Difference With Honda CD 70
The major differences between CD70 Dream and Standard CD70 are Dream's Sporty Taillights, Black Plastic Back Cover, Black Chain Cover and Black Side Cover. Overall the bike has a silver and black colour combination.
If we see the seat of this bike, it is flatter, and the tank is also a bit different in shape. The stickers on this bike are same as of 2014, and there is no upgrade except these stickers since its launch in Pakistan.
The Speedometer is also totally different from the standard CD70; it has a front windshield while its front tyre cover is silver.
Brakes Efficiency
The brakes work fine at 60-70km/hour, as per the owner. "However, at a higher speed, the brakes don't perform well, and the bike can skid upon applying the brake," the owner stated.
Maintenance Cost
The owner get its oil changed after 1,000 kilometres, and it costs him around Rs700-800.
Parts Availability of Honda CD 70 Dream
The parts of this bike are readily available in the local market at reasonable prices. "For example, if you buy its side indicator from Honda dealerships, it will cost around Rs500-600, while you can buy the local ones in Rs250," the owner explained.
Is This Bike Value For Money?
The owner believes that Honda CD 70 Dream is totally value for money as it has excellent fuel average, comfort and ride experience. "It is the best bike for students as it will be highly beneficial for them," he added.
Registration
As per the owner, he paid Rs4,000 for its registration, including its Number Plate and Registration Documents.
Resale of Honda CD 70 Dream
The owner believes that Honda CD 70 Dream has a good resale value and it can be sold within a week.