"Honda City 2008 is All About Fuel Efficiency" – Owner's Review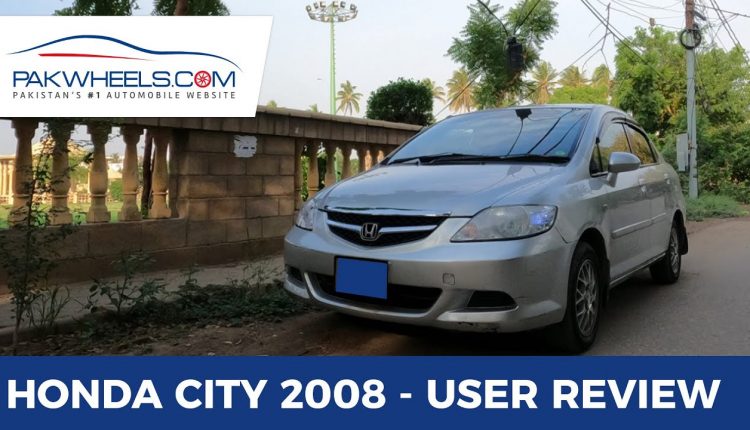 The 4th generation Honda City came to Pakistan in 2003 and got a facelift in 2006. Both pre and post-facelift models were massive hits because of their excellent fuel efficiency. Today, we have with us the owner of Honda City 2008 (facelift model) who will tell you all about his car, the good things and the bad. Here we go.
Purchase & Price
The owner purchased this Honda City from PakWheels 2-3 months ago. Previously, he was driving a Swift and wanted to upgrade to Corolla GLi 2009 but didn't have the budget for it. He was looking for a used car on PakWheels, found this City model, and bought it for Rs. 12 lacs.
Fuel Average
The owner, who is an aggressive driver, says the car gives him a mileage of 12 kilometers per litre in the city and 14 to 16 kilometers on the highway. But for lightfoot drivers, the fuel average can easily go up to 13+ km/L in the city.
Suspension
People usually complain about the suspension of Honda cars, but this Honda City has a soft suspension, better than other Honda models.
Seating Space
The car also has optimal space for four to five adults with ample legroom. The rear hump is relatively low, so the passenger in the middle will be comfortable.
Storage Space
When it comes to keeping your stuff in the car, this Honda City has many storage options. There are cup holders at the front and back, a mobile phone holder by the gear lever, two glove boxes at the front, and two storage compartments under the back seats.
Ground Clearance
This older City model has better ground clearance than the newer City, Civic, and Corolla models. But, of course, if you are driving with a houseful of five people, you have to be careful while driving on rough roads.
Maintenance & Parts Availability
The car is easy to maintain and doesn't give you a headache every other day. Just take care of the regular oil change and stuff, and you are good to go. Spare parts of this Honda City model are also available in the market at reasonable prices.
Known Faults
The owner is not a fan of a few things about his car.
The car has hard brakes, would have been much better with an Anti-Lock Braking System (ABS).
Handling is another problem with this Honda City. The car is easy to handle at low speeds, no issues there. But road grip becomes a problem at high speed, and you feel like rolling on a runway.
The side door panels have gone loose with time, which is not cool.
The paint around the door panels, console box, AC vents, and other areas is not of good quality. It comes off too quickly and messes with the cabin look.
There is a blind spot by the left pillar that blocks the driver's view while turning the car.
Final Statement on Honda City 2008
Overall, the 4th generation Honda City is a great option for a fuel-efficient budget sedan. It also has a quick resale.