Honda F1 Driver and Director Discuss 2022 Cars, Synthetic Fuel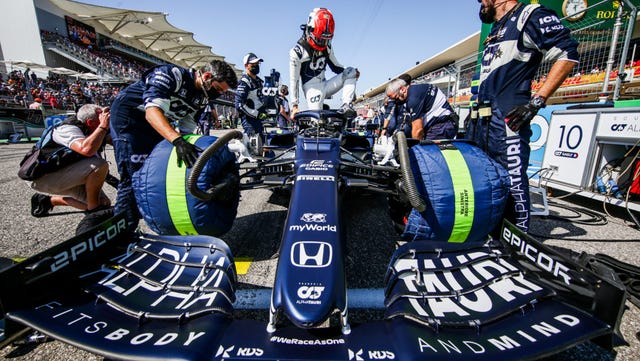 The automotive world is undergoing dramatic change with the rise of electric vehicles, and the motorsport sphere is also preparing for a more sustainable future. Earlier this month, Formula 1 declared it would switch to a synthetic fuel in 2025 that it says will produce zero net carbon-dioxide emissions. Electric racing series have cropped up recently, but F1's announcement solidifies the sport's intention to stick with internal combustion, and the decision is finding support among the series's drivers. At a panel interview at last weekend's United States Grand Prix in Austin, Texas, Pierre Gasly—who drives for the Honda-powered Alpha Tauri team—explained how the change will make F1 more environmentally friendly while maintaining the character of the sport that made him, and many others, fall in love with it in the first place.
"I remember the first time I saw F1 cars, I was five or six years old," the 25-year-old said. "What I remember mainly from it was the sound, and the goosebumps it gave me." Gasly knows firsthand that the aural sensation of watching race cars pound around a circuit is one of the biggest draws for fans. "It will be amazing to have a green F1, [but] still keeping the identity of our sport."
The transition to synthetic fuels is not the only major shift coming to F1, with a new set of technical regulations for next year that aim to simplify the aerodynamics to promote closer racing. Gasly said he had recently tried the 2022 car in the simulator and acknowledged that the reduced downforce will make the cars around two seconds slower per lap. Still, the young Frenchman is excited, as he seems willing to sacrifice some speed for more chances to battle at the top of the field with more equal cars. "Racing wheel to wheel should be easier, and as a racer that's what I want," he said. "At the moment, you kind of have two races within one race. I want to have as many opportunities as possible to overtake and to fight for podiums."
While Gasly did earn his first victory in F1 at last year's Italian Grand Prix, it took a series of unpredictable events to get his midfield car to the front of the pack. The Alpha Tauri driver therefore seems eager—with the help of the new regulations—to show off the driving skills that allowed him to conquer the 2016 GP2 championship and land a coveted seat in F1 in the first place. For a driver of Gasly's talent, the new regulations show the potential for a career full of podiums and wins.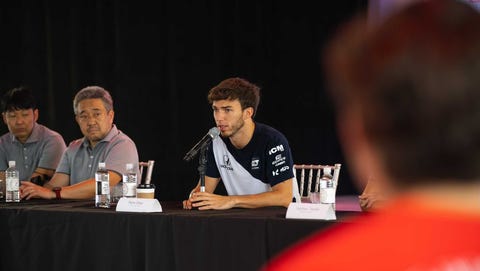 Masashi Yamamoto, Honda's F1 managing director, was also present at the event. He oversees the development of Honda's engines for its F1 customers, the Red Bull and Alpha Tauri teams. Last year, Honda announced that 2021 would be its final season, capping off a run as an engine supplier that started in 2015 with McLaren. When Honda departs, Red Bull will take over the engine program, building the same design on their own with Honda advising the team next season. When asked whether one year was enough for a smooth transition, Yamamoto-san expressed his confidence. "It's not an easy challenge at all, but Red Bull is very keen on doing it," he said, via a translator. "They are really prepared for that."
And although Honda may be leaving F1 behind, the lessons the company learned in the pinnacle of motorsport will have a long-term impact on Honda and its road cars. While Yamamoto-san did not provide specific examples of the technology transfer, he explained that F1's nonstop, high-pressure atmosphere helps the engineers become quicker and more efficient. "We've got 22 races this year, which is so many, almost one each week," he said. In order to stay competitive, "engineers have to make improvements every week, so many trials and errors, and that provides lessons to go back to mass production."