How Much Bike Prices Have Increased in 2021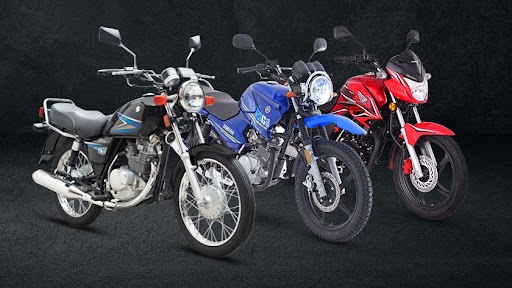 The 2021 was a hard one for the vehicle owners in Pakistan as both car and bike prices increased massively. The major reason was COVID-19 because of which the prices of material, cost of shipment, and freight charges broke all previous records. Furthermore, the delay in production and demand and ON Culture also played a major role in these sky rocketed prices.
So, we decided to compare the bike prices in January 2021 and current prices. The bikes from all major brands including Atlas Honda, Yamaha and Suzuki have seen repeated price increases throughout this year. The comparison shows that the prices have increased up to 20%.
So, here is the comparison of bike prices between January 2021 Vs. December 2021.
Honda Bike Prices – Jan'21 Vs. Dec'21
Honda bikes are most popular among masses, especially two bikes, Honda CD 70 and Honda CG 125. If we see CD70, its price is increased by Rs14,800 in this year, while CG125 saw a jump of Rs21,000. Here is the detailed comparison of price increase of these bikes. The company increased the prices for 7 times in this year.
Suzuki Bike Prices – Jan'21 Vs. Dec'21
The Suzuki bikes have very specific but strong fan following as bikes like Suzuki GD-110S and GR-150 are quite famous. The company announced four prices increases from start of this year. And here is the detail.
Yamaha Bike Prices – Jan'21 Vs. Dec'21
Yamaha is the third most famous bike brand in Pakistan. Its YBR bikes are quite famous among the bike lovers. The company hiked the prices of its bikes up to Rs30,500 during this year. Here is the comparison of prices of Yamaha bikes.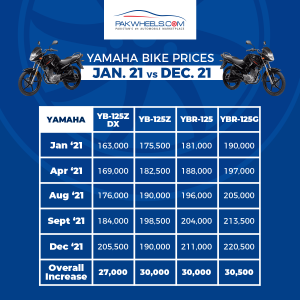 As mentioned earlier, 2021 was a tough year but we hope that this will not repeat in 2022. Hopefully, the prices remain stable because it will be a huge relief for the people. If the trend continues, the bikes will be out of reach of common people which will not be good for the industry.