How Much Does the 2022 Ford F-150 Lightning Cost?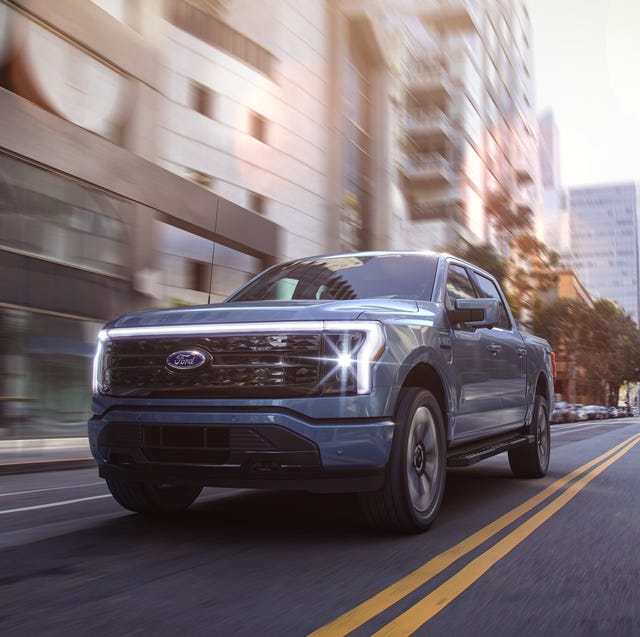 Ford has announced prices for the 2022 F-150 Lightning, including Pro, XLT, Lariat, and Platinum trims.
The base price is $41,669 including a mandatory $1695 destination charge.
The XLT starts at $54,669 and the Lariat and Platinum versions will be considerably more expensive—a loaded model starts above $92,000.
UPDATE 1/4/22: Ford has announced full pricing for the 2022 F-150 Lightning lineup and we have updated this story accordingly. The build-and-price tool is now live on Ford's website.
The existing gasoline version of the Ford F-150 starts just above $30,000, but that sum is hardly representative of the broad range of models available. Similarly, the base price that Ford has announced for the new electric version of the F-150, the 2022 Lightning, is only part of the story. The base Lightning, which is intended for commercial customers, will start at $41,669, and the XLT will start at $54,669. But the top Lariat and Platinum trim levels will reach much higher, with the Platinum starting at a whopping $92,569
All Lightnings will come with all-wheel drive and a crew cab, so by our approximation the most equivalent gasoline model is the 2021 F-150 XL SuperCrew 4WD with a short bed, which costs $41,855. That base version has a 3.3-liter V-6 engine with 290 horsepower and 265 pound-feet of torque, which pales in comparison with the base Lightning's 426 hp and 775 pound-feet.
The Lightning's base price also undercuts the new hybrid version of the F-150 by a few thousand dollars. A 2021 F-150 XL crew cab with the optional PowerBoost drivetrain starts at $46,350.
When comparing XLT crew-cab versions, the Lightning will be considerably more than an XLT 4WD with the V-6 ($45,500) and a few thousand more than an XLT model with the optional hybrid drivetrain ($49,995).
Ford says that the Lightning will offer two different battery-pack sizes. The Standard Range pack claims a driving range of 230 miles, and the Extended Range, which is optional on all models except the Platinum, is claimed to have a driving range of up to 300 miles. The Extended Range battery pack costs $10,000 on both the XLT and Lariat versions of the F-150 Lightning; it's standard on the Platinum and not available on the Pro.
Price vs. Other Electric Trucks
Now that we've covered how the Lightning fits into the F-150 lineup, what about how it compares to other electric pickups?