How We'd Spec It: 2022 Volkswagen Golf GTI With the Stick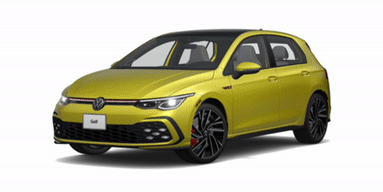 Volkswagen's Golf GTI is a perennial 10Best winner because of its affordability, performance, practicality, and standard manual transmission (#SavetheManuals). So, naturally, when a new model comes out we get excited. For 2022, the GTI gets a 241-hp turbocharged four-cylinder engine (up 13 horsepower over the Mk 7 model), new styling, and an updated interior. We've already driven VW's latest hot hatch, but now the configurator is live, and we can build the versions we'd buy. With a starting price of $30,540, they even might be within reach.
The Golf GTI has gotten expensive over the years, so I'm sticking with the base S model that features the quintessential plaid seats. It has almost all of the same performance goodies as the higher trims, with the main sacrifice being that the 18-inch wheels on the S and SE come only with Pirelli P Zero all-season tires; you unfortunately have to upgrade to the Autobahn's 19-inch setup in order to get the grippier Hankook Ventus or Bridgestone Potenza summer tire fitments. The 241-hp turbo 2.0-liter inline-four engine, limited-slip differential, and standard six-speed manual transmission are otherwise the same as in the more expensive GTI models. I also like the base GTI's interior setup, as its smaller touchscreen infotainment system appears to have physical knobs (I have yet to sit in one to see how they work) as opposed to the optional larger screen's touch-only interface. I chose the subdued Moonstone Grey exterior color for an extra $395 because I think the current trend of flat greys looks sharp. My GTI stickers for just above the car's base price, at $30,935.
Of the three GTI trims available, the mid-range SE checks all the boxes for me without entering into luxury territory. While the base S is fairly well equipped, the SE comes with niceties such as a panoramic sunroof, the larger 10.0-inch infotainment display, in-dash navigation, a Harmon/Kardon stereo system, wireless smartphone charging, and adaptive headlamps. Although the eight-speed dual-clutch automatic is a good one, I'd stick with the standard six-speed manual. I recently had a chance to take a manual GTI on a test drive through the mountains in North Carolina and totally fell in love. As for colors, I'll say that I wish VW offered a better palette of choices here, and the GTI deserves something more exciting than white, black, silver, or gray. I guess I'll choose Atlantic Blue Metallic, but it's not my favorite. The SE is offered with two option packages—one that swaps in black-painted wheels and one that trades the plaid upholstery for leather—but I'd skip both. My GTI SE rings in at an entirely reasonable $35,290.