Hyundai Tucson Scores 5/5 in Latin Crash Test [Video]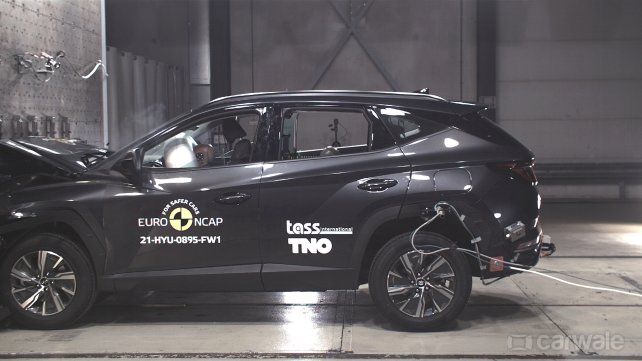 Earlier, we learned that Toyota Yaris performed poorly in the Latin crash test and scored only one star in safety. On the other end of the spectrum, Hyundai Tucson performed exceptionally well in the same test and got a 5-star rating.
Latin NCAP tested the latest 4th generation Hyundai Tucson that debuted in the international market in September 2020. The SUV went on sale in North America in 2021 but hasn't come to the Pakistani market just yet.
Hyundai Tucson Crash Test 2021
With its top Euro NCAP rating, the all-new Tucson has become one of the safest SUVs. The car is equipped with safety features such as dual front airbags, side airbags, seat-belt pre-tensioners and load limiters, seat-belt reminder system, lane assist, Automatic Emergency Braking (AEB), and speed assistance. Here are the detailed results of the crash test.
Adult Occupant Protection
Hyundai Tucson 2021 model scored 12.4 out of 16 points in the frontal offset test and an impressive 15.4 in the lateral impact test. The crossover scored 3.3 out of 4 points in the rear impact test and got 2 rating for rescue and extrication. Overall, the points added 33.1 out of 38 points, i.e. 86% in adult occupant protection. 
Child Occupant Protection
The Hyundai Tucson testing unit was assessed for the safety of 6 and 10-year-old children. The car scored 42.9 out of the 49 points, marking itself 87% safe for child passengers.
Pedestrian Protection
The SUV scored 5.1 out of 9 points for Automatic Emergency Braking (AEB) for pedestrians and 7.2 out of 9 points for AEB cyclists. The total pedestrian protection score summed up to 36.1 points out of 54, giving the car a 66% rating.
Pakistan currently has the 3rd generation Hyundai Tucson. The one tested in the Euro NCAP is the latest 4th generation model, which is years away from us. Still, the SUV's excellent performance in this crash test is a positive gesture for the Tucson buyers in Pakistan.