KIA Stonic Is Coming Sooner Than You Think
The Crossovers/Sports Utility Vehicles segment is the name of the game, and everybody is in with their players. Every car brand has brought the latest and greatest SUVs, but the market still has an appetite for more. When it comes to the Korean brand KIA, we have a wide range of offerings from small compact crossovers to big SUVs.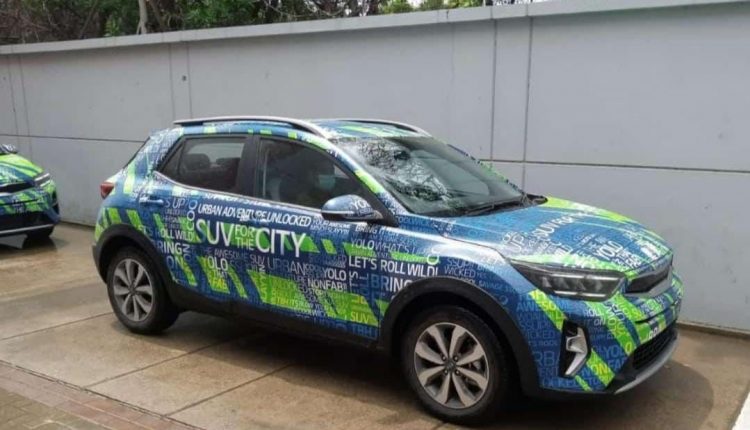 KIA has some serious fantasy and love for the letter "S", maybe because the word SUV has "S" and Crossover has double "S" . KIA Sonet, Soul, Seltos, Sportage, and Sorento. I left one model from the "S" list, that's the one we are going to discuss today. KIA STONIC. By now, everyone who follows the local auto scene knows that Stonic is coming soon as the next PK domestic model. Let's quickly go over what we know so far.
KIA Stonic
As per KIA, STONIC is derived from the words SPEEDY and TONIC, the first and last notes on a musical scale. On the KIA model portfolio, Stonic is the smallest crossover that sits two steps down under Sportage. The current Stonic is the first generation model. The car was first introduced in September 2017 and got a facelift in October 2020.
Stonic was initially targeted for the European market. That is why it was designed and developed by KIA Europe alongside KIA Korea. Back in 2017, the crossover segment was already on fire and KIA added Stonic as an entry level smallest crossover for city consumers.
As of now , Stonic is assembled in South Korea and China and exported to various countries. Pakistan will most probably be the third country to assemble this car for the local market.
Dimensions
KIA Stonic is a sub-compact B-segment crossover. Under the skin, Stonic is identical to KIA Rio hatchback. In fact, Stonic is actually a Rio hatchback on steroids, a taller and lifted version of Rio. If you remember, KIA did import some Rio hatchbacks for market research a few years ago. Although KIA Rio in Pakistan didn't become a reality, its sibling with a lot similarities is coming.
Stonic is 4140mm long, 1760mm wide, 1520mm tall and has a wheelbase of 2580mm. For comparison, MG ZS is 4323mm long, 1809mm wide, 1653mm tall and has a wheelbase of 2580mm. MG ZS is overall longer and wider but has the same size wheelbase as of Stonic.
Mechanicals
Stonic is available in multiple engine options depending upon the market.
1.4L MPI naturally aspirated engine that makes around 100 hp @ 6000 rpm and 133 Nm torque @ 4000 rpm
1.2L naturally aspirated engine with 82 horsepower
1.0L Turbo GDI 3 cylinder engine with 100 horsepower
1.0L T-GDI engine with a 48V mild hybrid variant with 118 horsepower
1.6L diesel engine with 108 horsepower
It is safe to bet that we will see the standard 1.4L MPI engine in Pakistan with a 6-speed automatic transmission. KIA might offer a base variant with a 6-speed manual transmission.
Exterior
Pakistan will get the facelifted KIA Stonic. It has design elements like black plastic cladding around bold wheel arches, side skirts, roof rails, bigger wheels, and a lifted body that give the car the impression of an SUV for a compact body. There is a typical KIA tiger nose grille and horizontal character lines upfront with parallel lines down the bonnet.
Stonic has been designed with urban living in mind. That's why you see the messaging "SUV for the City" printed on the wraps of KIA Stonic seen on the Pakistani roads.
The Stonic spotted multiple times on public roads in Pakistan has 4 strip horizontal LED DRLs. There might be standard projector halogen headlamps with DRLs on the basic model and most probably auto ON/OFF. There will be round fog halogen lamps, signal indicator on the side view mirrors, and body colored door handles.
On the rear, there are big tail lights with the similar design as the headlights. There will be stain silver cladding on the front diffuser and rear bumper. Rear high stop brake lamp, rear spoiler, rear screen wiper with washer, and defroster/defogger will be standard. As of wheels, we will see 16" alloys and a steel spare wheel. Another design element will be a compact shark-fin or pole type antenna.
Interior
Interior-wise, KIA Stonic might not look as fancier as the current newer generation SUVs because the Stonic is almost 4 years old. Hard plastics everywhere, but we can expect a better build quality as we have seen with the other KIA local products.
Although the vehicle is smaller in size, interior designed packaging will give enough space on the front seats. Rear seats might be tight for 3 adults, kids will just do fine. The dashboard has horizontal lines and surfaces to give a wider look and openness. The dashboard is angled towards the driver and has a standard 8" floating infotainment system with Apple CarPlay and Android Auto and possibly, 6 speakers.
The multi-function steering wheel has a Sportage feel. The cluster is conventional analogue with 4.2" MID LCD display, again similar looking to Sportage. Power side view mirrors and possibly heated, vanity mirror, map lights, power windows will be standard. Total 3 USB ports, one on the front with a 12V charging socket and two on the central console, will be available.
Fabric seats all around, the driver's is 6 ways manually adjustable. There will be 60:40 folding rear seats with parcel shelf over the cargo space. With seats up, the volume is 352 liters. Once folded, the cargo area can be increased to 1155 liters. The fuel tank is under the rear seats. The spare wheel cargo area is designed to stow lower in the hatch for ample storage.
All doors have decent space for storage while central console can slide front and back for optimal comfortable position. The rear hatch is manual and no option for auto tailgate. Push button start with keyless entry will be available with cruise control. Heated seats and steering wheel are some of features available on overseas model, but KIA will skip these in the local model.
There are two types of climate control systems available. Both are single zone, one is automatic with digital controls and the other is basic knob type with manual controls. I hope we at least get the automatic system. Picture of both systems are shared below for reference .
Safety
Compact vehicles are sometimes a challenge for car makers in overall safety. KIA Stonic initially scored only 3 stars on European NCAP crash testing. On the facelift model, KIA introduced active safety features which improved the rating to 4 stars.
Although six airbags are available as standard on overseas models, we might only get two frontal airbags. ISOFIX child seat anchors, seat belts with pre-tensioners, traction control, hill start assist, stability control, ABS, and back-up camera will be available.
I hope KIA doesn't skip stability control as they did in case of Sportage Alpha. The overseas model also gets active safety features like lane keeping assist, lane following assist, driver attention alert, autonomous emergency braking, I think we might not see any of these in our local model.
Launch & Price
The good news is the launch of KIA Stonic in Pakistan is just around the corner. Locally assembled Stonic units are ready for shipment to dealership for displays and test drives. I think we will have some official announcement on this subject in the next few weeks and an official launch in early October 2021.
As for the price, there has been a lot of confusion when some people started placing it next to the C–segment sedans like Corolla, Elantra, and Civic. KIA Stonic is a B-segment entry level model. It should not be compared with C-segment cars nor priced like them.
KIA Lucky Motors first brought Sportage to compete with the C-segment vehicles. They are doing it again in the shape of the B-segment crossover, Stonic. This time, KIA's target is the entry level small sedans; Yaris, City, and Alsvin. Stonic will definitely hurt the sales of these competitor sedans. Maybe some Corolla buyers also shortlist Stonic and save some money, who knows?
I personally think we will have three variants of KIA Stonic, all under 3.5 million rupees. I suspect that the base model Stonic might be hovering around 3 Million, a mid-level around 3.2, and the top variant around 3.4 Million +/- . Please keep in my mind, the prices and three variants is just my opinion ONLY. Nothing is official yet.
Another reason I feel that Stonic will slot under 3.5 Million is that Lucky Motors is almost ready for another B-segment crossover, Peugeot 2008. Lucky motors will fill the 3 Million to 4.3 Million bracket with two models. Stonic will be priced between 3 and 3.5 million, while Peugeot 2008 will be priced between 3.5 and 4 million.