KIA Stonic Vs Honda City 1.5L Aspire – A Comparison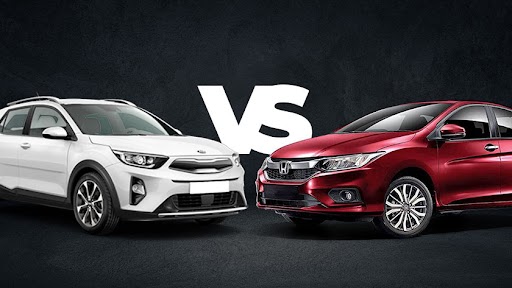 In this third comparison article, we are going to compare the upcoming KIA Stonic with recently-launched Honda City 1.5L Aspire CVT. Let us mention here again that these are unofficial specs and features of Stonic and after the local launch, there could be some changes in the vehicle. Also, this comparison is between top of the line variants of these vehicles.
Dimensions
The car by KIA is 163-inch in Length, 69-inch in Width and 60-inch in Height with 102-inch Wheelbase. In comparison, City is 175-inch Long, 67-inch Wide and 59-inch Hight with Wheelbase of 102-inch. The dimensions show that the Stonic is quite short in length as compared to City, while rest of the measurements are relatively similar.
Engine and Transmission
The subcompact crossover SUV will come with 1.4MPI engine which generates 100hp and 133Nm Torque, while City has 1.5L i-VTEC engine, generating 118hp and 145Nm torque. The comparison shows that the City's engine is bigger and more powerful.
And if we compare the transmission, Stonic would have 6-Speed Automatic, while City comes with a CVT one. Both vehicles have Front Wheel Drive (FWD) Drivetrain.
Exterior
Expectedly, KIA would launch Stonic with LED Headlamps and LED DRLs. In comparison, City has 4-Beam Halogen Front Lights, Halogen Foglamps and Integrated DRLs. Meanwhile, the former has 16-inch Alloy Wheels and latter has 15-inch Alloys.
Both cars have Keyless Entry option.
Interior
The Stonic has 8-inch Touchscreen in it as compared to 9-inch screen in Honda City. The seats in KIA's car are Fabric, while Honda City is offering Leather Seats. Furthermore, both cars have Auto Single Zone Climate Control, Push Start and Cruise Control in them, making them equal in this segment.
Safety
The common safety features in both cars are ABS + EBD, and Rear Camera. Meanwhile, Stonic has 6 Airbags against 2 in Honda City. The car by KIA will have additional features like Traction Control, Hill Assist, Stability Control, Tyre Pressure Monitoring System (TPMS) and Front + Rear Parking Sensors.
Price
The current price of Honda City Aspire is Rs3,174,000, while it is expected that KIA Stonic will be launched in price range of Rs35-40 lacs. So, it means that the latter will be a bit expensive than its competitor.