KIA Stonic Vs Honda Civic – A Comparison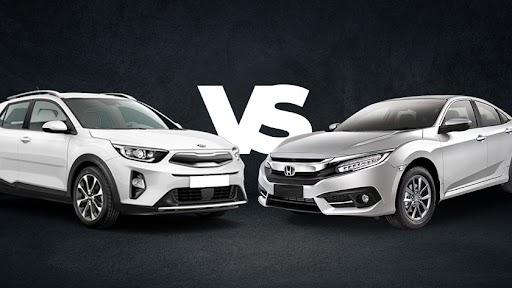 As the launching date of KIA Stonic is coming near, we thought to bring another comparison and this time, we are comparing B-Segment Subcompact Crossover SUV with Honda Civic 1.8 VTi Oriel, which is a C-Segment sedan. The purpose of this comparison is the similar price range between these two vehicles. So, here is the comparison.
Dimensions
If we measure KIA Stonic, we will find that the car is 4140mm Long, 1760mm Wide and 1520mm High with 2580mm Wheelbase. In comparison, Honda Civic is 4630mm Long, 1799mm Wide and 1433mm High with 2700mm Wheelbase. So, Civic is longer and wider but less higher than its competitor.
The Ground Clearance of Stonic is 183mm, while Civic has 153mm, making the former higher.
Engine and Transmission
KIA Lucky Motors will offer 1400cc MPI engine in Stonic which produces 100hp and 133Nm of Torque. Meanwhile, Civic comes with 1800cc VTEC engine with 138hp and 169Nm of Torque. A clear edge to Civic in engine size and power.
Coming to transmissions, the KIA's crossover has 6-Speed Automatic compared to CVT in Honda's sedan. Lastly, both cars have Front Wheel Drive (FWD) Drivetrain.
Exterior
The Stonic has LED Headlights with 4-Strip LED DRLs and Halogen Fog Lamps against Full LED Headlights, and LED DRLs and Fog Lamps in Civic. The size of Alloy Wheels in both vehicles is 16-inch. And if we compare the Tyre size, Stonic has 195/55/R16 against 215/55/R16 in Civic.
Interior
The first noticeable option in Stonic is its 8-inch Floating Touchscreen, while the car has 4.2-inch LCD. In comparison, Civic has 7-inch Touchscreen (optional) with Full Colour TFT, giving an edge to Stonic. The seat material in KIA's crossover is Fabric, while Civic offers optional Leather Seats.
Moreover, both vehicles have 6-Way Manual Adjustment, Keyless Entry, Auto AC, and Cruise Control as common options in them.
Safety
Both cars have a number of common safety features including Dual Airbags, Traction Control, Hill Assist, Stability Control, and ABS + ABD. Meanwhile, KIA Stonic has Rear Parking Sensors and Tyre Pressure Monitoring System (TPMS) and Rear Camera. It is pertinent to mention that Rear Camera is optional in Honda Civic.
Price
The price of Honda Civic Oriel is Rs3,864,000, while it is expected that KIA will launch Stonic in price range of Rs35-40 lacs, which will be a great option for the consumers.