Land Cruiser LC300 Scores 5/5 In Crash Test [Video]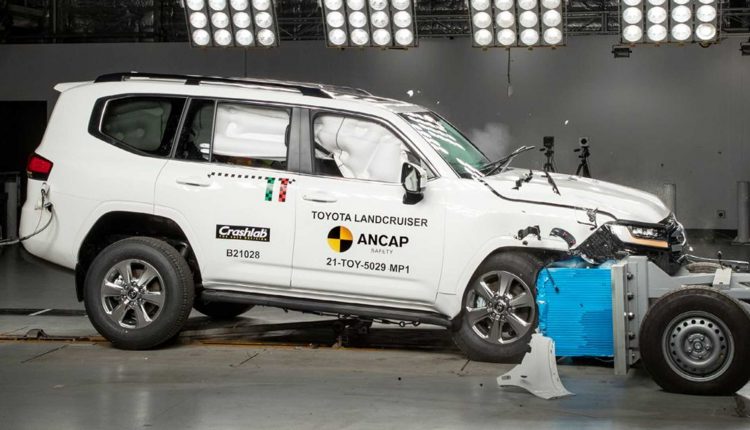 The latest Toyota Land Cruiser went through the Australasian New Car Assessment Program (ANCAP). The Land Cruiser LC300 scored a perfect five and proved it's one of the safest SUVs for the people inside the car as well as the ones around it.
The vehicle under testing was the latest Toyota Land Cruiser 2022 that was revealed in June last year and is available in the Australian and New Zealand markets. The 5-star safety rating applies to all variants of the new Toyota Land Cruiser, except the GR Sport. Here's the complete video of the new SUV going through a series of crash tests.
Land Cruiser Crash Test 2022
The Land Cruiser 2022 comes with a full suite of safety features. Ten airbags, autonomous emergency braking, lane support system with lane keep assist, lane departure warning, emergency lane keeping, and an advanced speed assistance system (SAS) are all standard on all variants of the LC300.
Here are the detailed results of the crash test.
Adult Occupant Protection
The Land Cruiser LC300 scored 34.08 out of a total 38 points for adult occupant protection, getting 89% in the first parameter.
Child Occupant Protection
With 43.60 points out of 49, the latest model got 88% in child occupant protection.
Pedestrian Protection
The SUV scored 44.02 out of 54 points for vulnerable road user protection, marking it 88% safe for pedestrians.
Safety Assist Systems
The model's overall safety features got 12.40 points, which is 77% of the total 16 points.
The latest Toyota Land Cruiser LC300 is all set to begin sales in the US and other markets. Pakistan currently has the previous generation LC200 for the past few years. There's a sign that the latest generation 300 Series Land Cruiser will be here in Pakistan in 2022. But nothing is for sure.