MG Marvel R – First Look Review of 'Futuristic' Car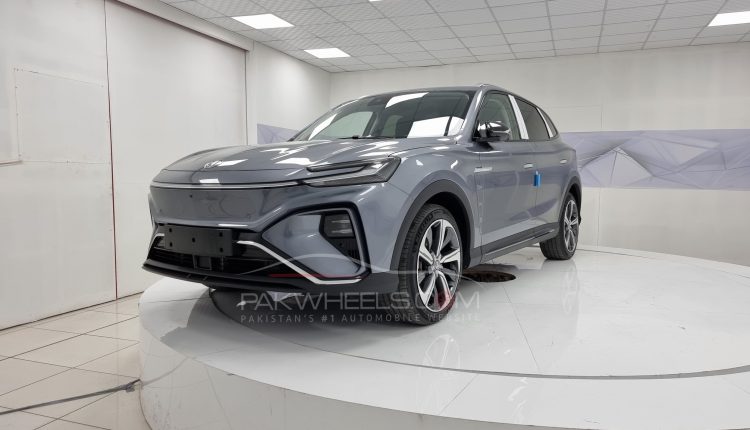 We told you about the arrival of the all-electric MG Marvel R in Pakistan. And now we are here with an exclusive first look review of this futuristic car. But you must remember that the vehicle is not for sale; instead, MG Pakistan has only displayed it for research purposes.
So, here is the first look review of the car.
Exterior
The best thing about this car is its looks; they immediately catch your attention and its headlights are the best feature. These sleek and chic front lamps are a treat to watch, and you have to say, Aye, Haye, Haye, Haye!
The side-view mirrors are auto-retractable and have 360-degree cameras providing a complete overview of the car's surroundings. The door handles are also very stylish and sleek. And you will find a panoramic sunroof and shark fin antenna on the roof.
This EV has 19-inch alloy wheels with Michelin tyres. The car's rear is very sporty, and its backlights are very similar to Audi E-Tron's. You can open the trunk with a remote, and it has very ample space.
Power
The car comes with a 69.5kWh battery which produces 180hp and 410Nm of torque, meaning it is a very powerful machine. Meanwhile, it has two charging ports, i.e., domestic and commercial fast charging.
It will take around 7 hours in domestic charging, while it reaches 0 to 80% in almost 40 minutes on commercial charging. The car's range varies from 250km to 490km per charge, depending on weather conditions, driving style etc.
Interior
The first thing you will notice is its massive 19.4-inch infotainment touchscreen. The screen gives you essential information like battery status, estimated range, seat control and MG Pilot.
The MG Pilot has several safety features, including lane departure warning, radar, front collision system, traffic assist, adaptive cruise control, and 6 airbags. The driving seat is 6-way powered adjustable as well as memory.
Its dual-speed automatic transmission is in the shape of a knob and is very convenient to use.