New Nissan GT-R Rumors Revisit Idea of Hybrid V-6 Powertrain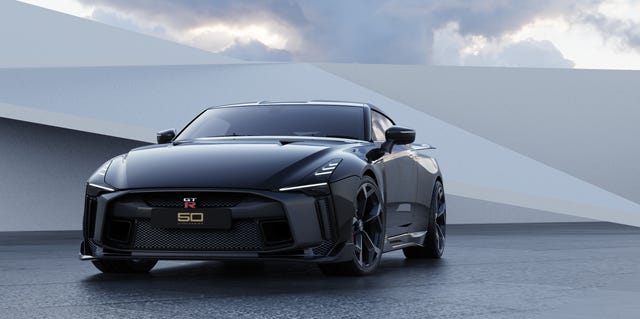 The next-generation Nissan GT-R has been rumored since at least 2013, but a new report reveals potential details about the future sports car's powertrain.
Speaking with Autocar, Nissan CEO Makoto Uchida said the company is assessing ways to electrify the GT-R.
Hybridization could help the GT-R improve its acceleration times while also enhancing fuel efficiency.
It feels like an eternity since the current generation Nissan GT-R first went on sale—back in 2008, Barack Obama was elected, the first "Twilight" movie premiered, and T-Pain and Flo Rida's "Low" dominated the airwaves. And for nearly ten years, rumors have swirled regarding the successor to the R35 GT-R. Nissan provided a glimpse at what a future GT-R could look like with the 2020 Vision Gran Turismo concept in 2014, and back in 2013, Nissan said to expect some form of hybridization on the next generation. Now, a decade later it appears that plan is still on track, according to a recent report from Autocar stating that the next GT-R will feature a hybrid powertrain using a V-6 gasoline engine.
Autocar spoke with Nissan CEO Makoto Uchida, who said, "We are looking at how we can do it electrified." Currently, the GT-R is powered by a twin-turbocharged V-6 with up to 600 horsepower, good for a sub-three second sprint to 60 mph. And while the GT-R is on the more fuel-efficient end of the sports-car spectrum, returning an EPA estimate of 18 mpg combined, emissions regulations mean that adding electrification could become necessary to keep the GT-R compliant. Along with boosting the fuel efficiency, the addition of electric motors could help with acceleration, as their instantaneous torque could sharpen the GT-R's tire-squealing launches.
What's not yet clear is if the next GT-R will be built on a new platform. Back in 2018, Nissan design chief Alfonso Albaisa told Autocar "we're definitely making a new platform," but GT-R sales have tailed off sharply since then and the global pandemic and resulting semiconductor chip shortage may have shifted priorities. Nissan launched a new generation of the Z car earlier this year, which, while heavily restyled, sits on the same FM platform as its 370Z predecessor. The GT-R could take a similar path, with all-new styling and an updated powertrain but riding on the same bones as the R35.
Albaisa had also previously described how he likes the GT-R's status as "The world's fastest brick," so we don't think the next-gen model's styling will be as dramatic as the Gran Turismo concept. It's likely to retain an upright and muscular stance rather than going for the low-slung, sinewy supercar look. We may also see some inspiration drawn from Italidesign's take on the current GT-R, pictured here.
There's no word yet on when to expect the next generation GT-R, but hopefully we won't still be reporting on rumors about it in 2031.