Our Toyota Supra Was a Great Three-Season Thrill Ride
Our long-term Toyota Supra GR 3.0 proved to be an easy car to love. It's a low-flying rocket with a brash, enveloping exhaust note. It's a keen dancer on twisty roads, alive and endlessly entertaining. Its bulging bodywork draws stares and comments from passers-by, and it's a great performance value. But there are limits to our love. If you're thinking of buying a Supra, you should know about two things that our long-term, 40,000-mile relationship revealed before you commit.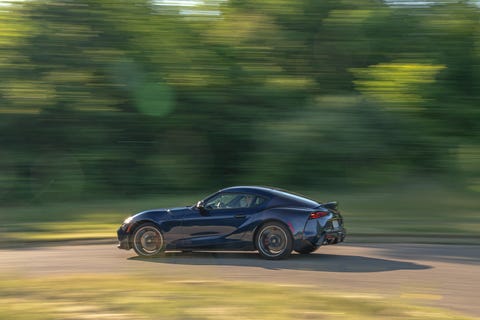 Once there's a few inches of snow on the ground, you're risking getting stuck—which our drivers did on multiple occasions despite our having fitted the Supra with Pirelli Sottozero Serie II winter tires. The Supra's belly is just 4.5 inches above ground, and the snow piles up under it easily, high-centering the car. Many other long-term sports cars we've lived with through our frigid months had no such problem when outfitted with winter shoes. Granted, even here in snowy Michigan there are only a handful of days when the snow falls heavily enough to snarl traffic on the main roads. But if you want a car you can rely on day in and day out to get you where you want to go in winter, this isn't it. That's why we say the Supra's a great three-season car.
Reservation number one about this Toyota-BMW joint-venture two-seater: its snow capability, or more accurately, lack thereof. When the world turns into a giant snow globe, best leave the Supra parked and take your other car, if you have one. Or call Uber. Or strap on a pair of cross-country skis.
Far worse than getting stuck, however, was the headache our Supra ownership induced every time we attempted to get it serviced at local (and not-so-local) Toyota dealers. The sort of prompt, same-day service available to any Camry or RAV4 owner was not possible for our long-termer. This is a rare car—just 6830 Supras were sold in calendar year 2021—so dealers haven't seen many of them, certainly not here in southeastern Michigan. Compounding the problem is that the Supra is a BMW Z4 underneath, so it requires BMW service items, which most Toyota dealers apparently don't stock.
We attempted to get our Supra in for scheduled service at several different dealers only to be told they didn't have even the proper oil for the required oil-and-filter change. One dealer's service department ended up sending someone to a nearby BMW dealer to purchase the proper oil. When we wanted to get the car aligned at the 40,000-mile mark, we were informed it could be as long as a three-week wait while the dealer sourced the new suspension bolts necessary for the job. And the need to disassemble some engine-compartment components to get at the straight-six's rearmost pair of spark plugs pushed the cost of the required 40,000-mile plug replacement to $498. To be fair, some other Toyota mainstream models with transverse V-6s suffer a similar problem and an exorbitantly high plug-replacement bill as well.