Pick the Next Hot Wheels Legends Car with Us Live Saturday, Nov. 13
In Jay Leno's garage, senior features editor Elana Scherr joins automotive designers and drivers to choose a custom car that will be re-created in 1:64 scale.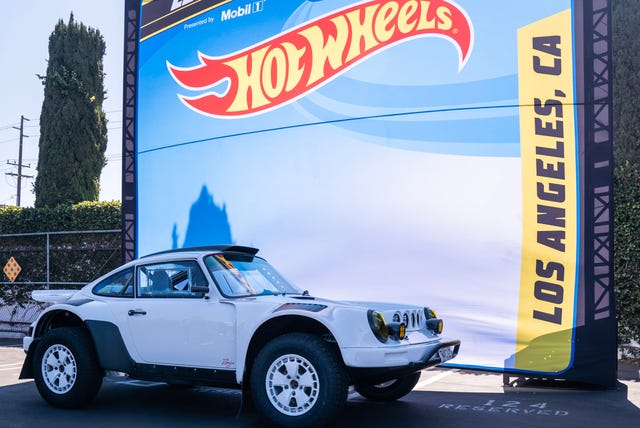 Hot Wheels started its Legends Tour in 2018, and each year since has hosted a traveling car show to choose regional winners, and finally, an all-out champion from car builders all over the world. We were on hand for the debut of the 2020 winner, Riley Stair's 1970 Firebird, and now, this year, we have the pleasure of helping choose which of the 2021 finalists will get to see their big car made small and ready to go through the loop-de-loop.
The judging is taking place in Jay Leno's garage in Burbank, California. Just being in Leno's garage is already like falling into a car toybox, so it's the perfect place to see some of the Legends contestants in person, and argue passionately for a winner. The judges, besides me (Elana, trying hard not to shame Car and Driver by being too excited about absolutely everything), include several designers from Hot Wheels, full-size car designer Henrik Fisker, customizer Mad Mike, and drifter Sara Choi.
We'll be narrowing it down from 10 cars to only one, and it's not an easy decision. All the entries would be excellent in miniature form. Some have incredible backstories, others show impeccable work, some have both! There's also a wide variety of cars to choose from. American muscle, German luxury, Braaaaaaap-ready rotaries, and complete one-off, hand-built customs.
Here's a quickie list of what we'll be looking at during the judging.