Range Rover 2022 Revealed – Specs & Features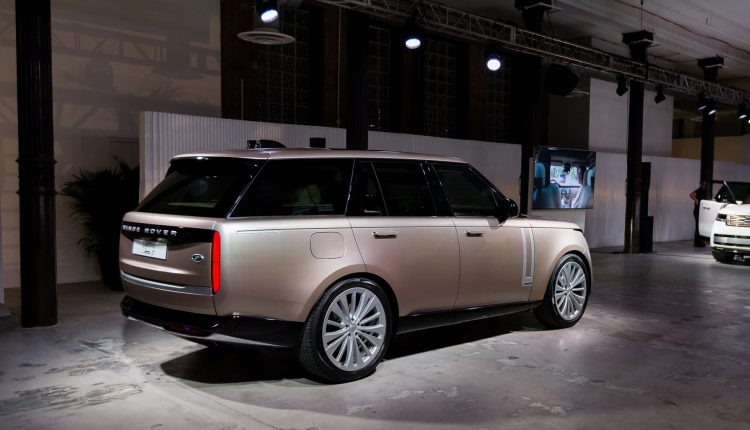 The 4th gen arrived back in 2012 so, a replacement was due. The all-new 5th generation of Land Rover's flagship Range Rover 2022 arrived today for a global reveal.
Exterior Design Philosophy
There is a typical design philosophy of the brand and more of the evolution of the 4th generation with boxy outlines as far as the exterior. On frontal elevation, you might not notice much different than the previous generation, although there are new headlights and grille. Additionally, you will see a horizontal air intake on the lower side with a rectangular boxy front.
On the rear, there is a revolutionary approach and vertical taillights, to be specific. On the side profile, nothing much new comparing the previous generation, but now there are flush pop-out door handles.
The new generation might not look very unique on the exterior, but it stands on all-new MLA modular aluminum platform, which will result in reduced curb weight, improved performance and overall driving dynamics.
The 5th generation will be available both in short and long wheelbase. Comparing the previous generation, the standard model is almost 2 inches long while the wheelbase is extended by 3 inches. The long-wheelbase is nearly 8 inches longer than the standard model.
Powertrain
The new MLA flexible architecture can house multiple powertrains like regular petrol, diesel, plugin hybrid and fully electric/ EV. Various engine options are available depending on markets/ regions, trim level, and short or long wheelbase.
P400 with 3L Inline 6 with 48V Mild Hybrid setup, This makes 395HP and 550NM of torque. This model can reach 0 to 100 in 5.8 seconds.
P530 comes with a 4.4L Twin Turbo V8. Thanks to BMW for this engine as it's a borrowed from BMW and used in various BMW current models like M850, X5 M50, X7 M50, and M550i. In Range Rover, it makes 523HP and 750NM of torque. All-wheel drive with ZF 8 speed automatic, and this model can reach 0 to 100 in 4.6 seconds.
If you like diesel, you have two options. 3L 6 cylinders power both versions. The D300 makes 296HP and 650 NM of torque. This can touch 100 in 6.9 seconds. The D350 makes 345HP and 700NM of torque and can help you reach0 to 100 in 6.1 seconds.
While we have to wait at least another year for the fully electric version, the Plugin Hybrids are available right away. The same 3L inline 6 cylinders power the model. The P440e has a 140HP electric motor mounted in the transmission, and the combined output is around 434HP. If you take the P510e model, the total system power reaches up to 503HP. Both Plug-In Hybrid models carry a 38.2 kWh battery pack and help the models run on a fully electric range of 100 kilometres, obviously depending on driving conditions.
Moreover, all versions now come standard with All-Wheel Drive regardless of engine or variant. Rear-wheel steering is also standard and can turn rear wheels by 7 degrees. As for suspension, air springs are stock and comes along with adaptive dynamic dampers. The suspension system also gets data from navigation which basically adjusts the suspension for upcoming curves and corners.
Off-Roading
Yes, the Range Rover is a luxury vehicle, but you can take it off the road and drive through 3 feet of water. The chassis also comes with active anti-roll bars and adjust itself automatically depending on driving conditions. The system can apply up to 1400 NM of torque against the body.
Interior of Range Rover 2022
As for the interior, it's all new and nothing like the model it replaces. The new generation is now available with 4, 5 or 7 seats. The 7 seats are available on the long-wheelbase as a third row. Furthermore, the 4 seat configuration is available on the long wheelbase. There is a new dashboard with a 13.7″ instrumental panel while a 13.1″ floating infotainment system. An 11.4″ full HD screens are also available for the 2nd-row passengers. A 1600 Watts 35 speaker Meridian premium audio system is also available. The system also carries 2 speakers in each headrest for a theatre-like experience.
Price
The US pricing for Range Rover 2022 starts for the base model P400 at $104,400. Meanwhile the top P530 First Edition can reach $163,500.