Restomod Treatment Elevates 1980s Hyundai Grandeur to a New Level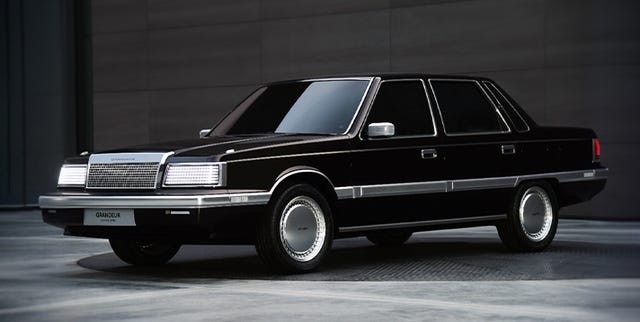 One of the coolest cars we have seen this year was the Hyundai Pony Heritage Series, a thoroughly reworked and upgraded first-generation Pony from the 1970s fitted with an EV powertrain, ultra-modern LED lighting units, and a nixie-tube dashboard. The Pony was created for an internal design lounge in 2020, and now it has happened again: A similarly restomodded Hyundai Grandeur sedan has appeared in the same showroom, right next to the iconic Pony.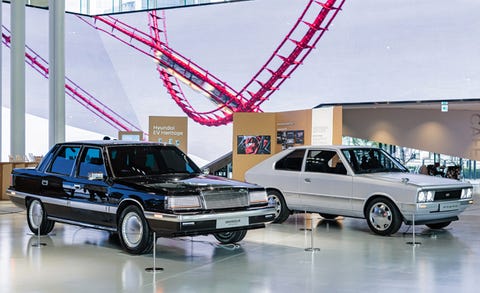 The Grandeur is an interesting choice to receive this treatment. U.S. customers received later iterations of this large sedan, first as the XG300 and later as the Azera, but the first-generation Grandeur is more obscure. Developed together with Mitsubishi, it was also called the Mitsubishi Debonair in Japan. In Korea, it was intended to take on Daewoo's top models and to provide aspiring Hyundai with a flagship model.
While the Grandeur failed to distinguish itself from its competitors back in its day, its rebirth in Hyundai's showroom in 2021 shows us how timeless the clean lines of the 1980s feel today. The car appeals not just to those that remember the first-generation Grandeur, but also to those spellbound by retro-futuristic style.
Outside, the Grandeur's conventional lights make way for multi-pixel LED lights, which illuminate in different patterns up front and in the rear. The grille has been redesigned and loses the hood ornament that graced some versions of the original Grandeur. The wheels, mirrors, and moldings were also reimagined in a futuristic style.
While the exterior has been upgraded and modernized, the interior is entirely redesigned but still uses styling cues and materials reminiscent of the 1980s. There is a single-spoke steering wheel with additional knobs on the left and right; the upper dashboard is an entirely new, horizontal screen; and the infotainment system features a vertical display on the center console.