Tesla Model S Goes 752 Miles with a Prototype Battery from a Michigan Startup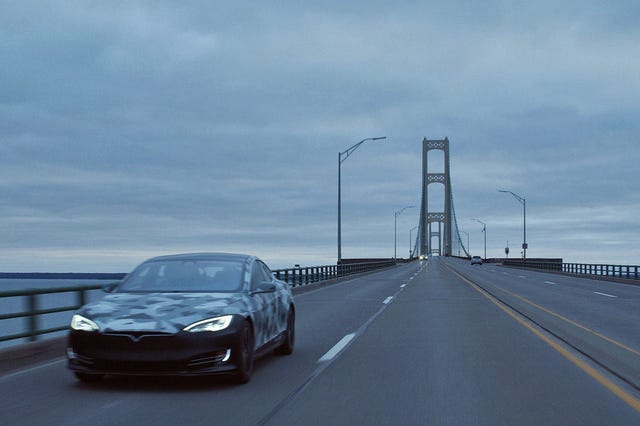 Imagine an electric car that covers 752 miles on a single charge. You can't buy it today, but a modified Tesla Model S drove that distance across Michigan last month. It was the work of a two-year-old Michigan startup, Our Next Energy (ONE), which says it is aiming to make safer and more sustainable batteries. ONE retrofitted the car with a battery holding twice the energy of Tesla's original—while fitting entirely within the same space. It's a proof of concept for the company's own future battery design.
Faster Charging, or Bigger Batteries?
Two ways exist to assuage range anxiety among EV buyers. The first is ubiquitous, reliable, nationwide DC fast charging, like Tesla's Supercharger network. Unfortunately, only Tesla offers that today. Every other EV relies on a mishmash of private networks of varying reliabilities.
The second is to improve the range of EVs by a combination of large-capacity batteries and improving their efficiency. That's the approach used by the Mercedes-Benz Vision EQXX, an ultra-efficient concept EV that was just unveiled Monday. Its goal is to provide 620 miles of range in a luxury sedan.
ONE's project didn't mess with anything to alter the Model S's efficiency, but employed a much higher-capacity battery. "We want to accelerate the adoption of EVs by eliminating range anxiety, which holds back consumers today," said ONE founder and CEO Mujeeb Ijaz. He's a battery engineer with more than 30 years' experience, including stints at Apple, A123 Systems, Ford, and others.
ONE put its higher-capacity prototype pack into a Tesla Model S Long Range Plus, providing nearly 90 percent more range than its original 402-mile EPA figure. The demonstration car is actually the same vehicle (before ONE modified it) that won our EV 1000 long-range trip last spring. In our own highway range test last May, that car achieved 320 miles at a steady 75 mph, the farthest distance we've recorded. (That model has since been supplanted by the Model S Long Range, rated at 405 miles.)
The original Tesla battery had a capacity of 103.9 kilowatt-hours, while the prototype ONE battery that replaced it in the same space has 207.3 kWh. CEO Ijaz confirmed to C/D that ONE used "a single pack retrofitted in the same space as the original battery." So it's far more energy-dense, but delivered consumption (in miles per kWh) roughly equal to that of the original battery.
ONE's drive took place in mid-December in Michigan—with chilly winter temperatures working against range maximization—where the company drove up and down the length of the mitten state for nearly 14 hours, averaging 55 mph, before winding up back at its Novi headquarters in southeastern Michigan with the trip odometer showing 752.2 miles. Later, in a much less taxing test, the company put the Model S on a dynamometer at a steady 55 mph, where it ran for a staggering 882 miles on a charge.