Tested: 2021 Kia Sorento Is Compelling in Hybrid Form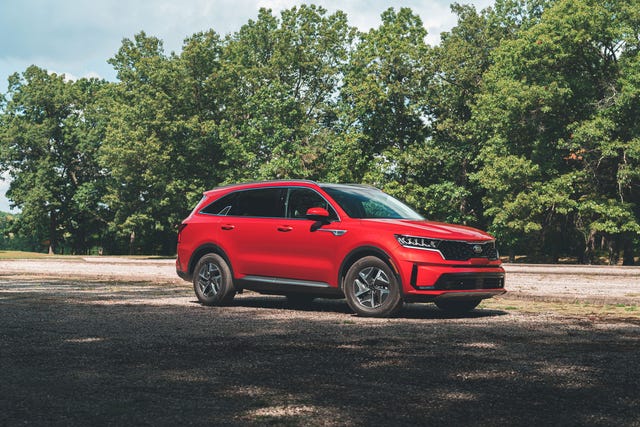 The new 2021 Kia Sorento hybrid doesn't make a big deal of itself, despite being the first electrically assisted version of Kia's mid-size crossover. It's got a 1.6-liter turbocharged four-cylinder mated to a six-speed automatic transmission, and it drives like you'd expect—except that the little four feels like it has about 25 percent more displacement than it actually does. In fact, the Sorento hybrid's combined output—227 horsepower and 258 pound-feet of torque—nearly matches that of the 2020 Volkswagen GTI. Like a GTI, the front-wheel-drive Sorento torments its front tires with torque. Unlike the compact GTI, though, it has three rows of seats and an EPA combined estimate of 37 mpg. Thus concludes our references to the Volkswagen GTI, but we hope the comparisons helped you subliminally internalize the idea that the Sorento hybrid is actually kind of fun. View Photos Marc UrbanoCar and Driver
HIGHS: More power than the nonhybrid base version, 11-mpg fuel-economy gain, modest price premium.
To get the Sorento hybrid's 227 horses out of a 1.6-liter turbo four, you'd generally have to boost the bejesus out of it. Kia didn't do that. But it did pair the engine with a sizable electric motor and a 1.5-kWh lithium battery that enables some neat tricks. Such as producing an abundance of torque off the line and sailing along at highway speeds with the engine off. And, yes, achieving solid fuel-economy ratings of 39 mpg in the city and 35 on the highway. Our 75-mph highway fuel economy test returned 42 mpg, 13 percent better than the EPA's estimate, and unleashes the potential for a whopping 740 miles of range from its 17.7-gallon fuel tank. View Photos Marc UrbanoCar and Driver More on the New Sorento Tested: Kia Sorento Satisfies High Expectations 2021 Kia Sorento Has New X-Line, Hybrid Models
Kia's highly specific spec sheet lists the 1.6-liter as making 177.2 horsepower and 195.4 pound-feet of torque from 1500 to 4500 rpm. The electric motor generates a claimed 60.1 horses and 194.7 pound-feet from zero up to 1600 revs. Notice that those two torque figures are almost the same and happen at low revs, which helps explain why the hybrid's low-end grunt feels diesel-like in strength. It's simply a smooth, prodigious shove that's out of proportion to the gas engine's displacement. The duo combines to send the Sorento to 60 mph in 7.2 seconds and through the quarter-mile in 15.6 seconds at 92 mph. The powertrain's responsiveness is reflected in the Sorento's 5-to-60-mph time of 7.9 seconds—the power is there, real-world ready when you need it.
The 1.6 does sometimes lug at low rpm, particularly when climbing grades, as the transmission holds a tall gear and leans on the electric motor for help. But that's a common hybrid trait. As dealership sales reps like to say: They all do that. And as we often say: At least it's not a CVT (continuously variable automatic transmission). Should you desire a lower gear from the Sorento hybrid's conventional automatic, there are paddle shifters on the back of the steering wheel. We doubt too many Sorento hybrid drivers will be grabbing downshifts on their way into a max-attack run at their favorite off-ramp, but in that unlikely scenario, the Sorento hybrid can generate a respectable 0.81 g of lateral acceleration.