This Owner Converted His 10th Gen Corolla XLi into GLi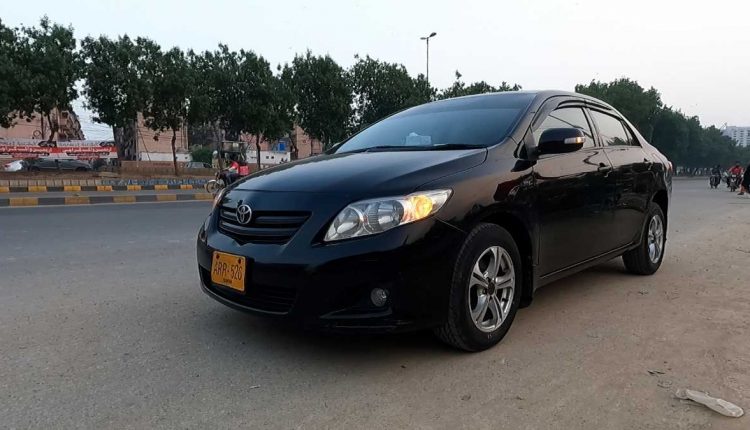 The 10th generation Toyota Corolla, also known as the E140, arrived in Pakistan in 2008 and remained a massive success till 2014. Now, it's one of the top choices for a used sedan. Today, we have Arsalan Ikram from Karachi, who bought a used 10th generation Corolla XLi and converted it into a GLi. Want to know how? Here's the full user review; enjoy! 
Purchase Decision
Previously, the owner had a Suzuki Mehran. He upgraded from Mehran and bought this XLi in 2017. The car was driven for 55,000 kilometers. After the purchase, he got some minor work done on the car, such as the brake pads, new tires, etc.
Modification Process
Overall, the owner made a calculated decision and was happy with his car. But, he missed some features and advancements in his XLi that the GLi variant had. So, he contacted a Toyota dealership to get those add-ons in his car.
He replaced the old stereo with an Android screen and converted the manual windows and side-view mirrors into electronic ones. He also got fog lamps installed at the front.
Although the GLi variant has a few safety features that he couldn't get through this after-market service still, his XLi has now become part GLi, which is pretty cool. 
Fuel Average
The owner's XLi goes easy on the fuel and gives him an economy of 13 to 14 kilometers per litre in the city and 17 to 18 kilometers on the highway.
AC Performance
The AC does a great job maintaining a comfortable environment inside the car. The owner lives in Karachi, where, in Summers, the temperature goes up to 46°, but the car's AC never breaks down or causes any trouble.
Handling
Corolla is a sweet-handling sedan, but it's no sports car. So, you can't push its limits. The car stays cool at the speed of 100 to 120 km/h. But the body rolls kick in as soon as you touch 160 km/h or above.
Cabin & Trunk Space
The 10th generation Corolla is also a spacious car and has room for four to five adults. The rear passengers feel comfortable even if the front seats are adjusted all the way back. The cabin is also very quiet. You don't hear much road noise.
The car's trunk has up to 72 litres of space. You can adjust anything and everything in the trunk, no problem. The owner used his XLi as a loader during house shifting and a passenger car for two wedding events in his family, and the car carried everything perfectly.
Maintenance & Parts Availability
Like every other car, this one needs regular maintenance. If you get the engine oil and all the filters changed after every 3,000 to 5,000 kilometers, your car stays young and trouble-free. Toyota spare parts are also available in the market at reasonable prices. You can order Corolla parts and accessories from PakWheels Auto Store with free delivery.
Missing Features
As mentioned before, there are still some safety features that the owner misses in his car — Anti-Lock Braking System (ABS) and airbags, to name a few.
Final Statement on 10th Gen Corolla XLi
The owner is a fan of the 10th generation Corolla XLi because it has so much room for modifications and advancements. It is also one of the best fuel-efficient and budget sedans full of comfort and convenience.