"Toyota Camry Hybrid is More Reliable Than Audi A6", Owner's Review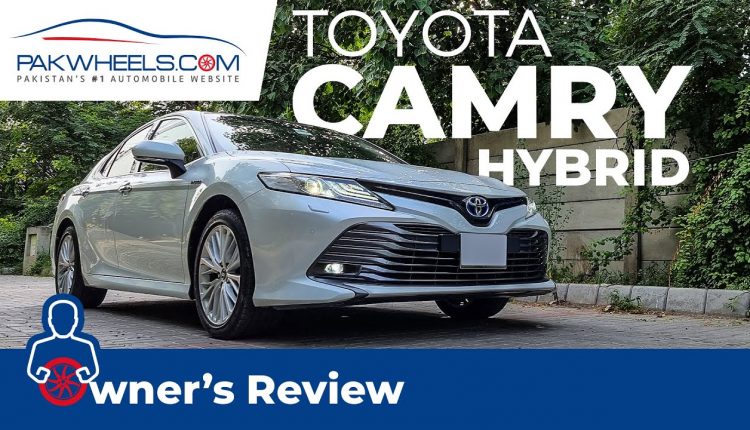 Today, we are presenting the owner's review of Toyota Camry Hybrid. The under review car is 2019 model and top of the line variant with 2.5L engine.
Price and Other Options
As per the owner, he bought this car in Rs127,00,000. "The other options, I had was Audi A6, but it is more comfortable and smooth so I bought it," he explained.  He further said that he chose this car as it is a hybrid one and his father don't like Turbo engine because he thinks this engine is not suitable for Pakistan.
Spare Parts
As Toyota Indus is selling this car as a CBU, hence, parts availability can be an issue. However, the owner said that the parts are easily available at Toyota dealerships. "There is a lag of 10-15 days in the delivery and they are a bit expensive," the owner stated.
Fuel Average of Toyota Camry Hybrid
As per the owner, its intracity fuel average is 16-18km/liter, while on long route it reaches around 20-21km/liter. The owner mostly uses Hi-Octane in the car.
Maintenance Cost
He changes its Engine Oil and Filters after every 5,000 kilometers and it costs him Rs11,000. It means it costs him Rs2 per kilometer, which is not so expensive for car like Camry.
Ground Clearance of Toyota Camry Hybrid
As mentioned earlier, it is a CBU unit imported from Japan and JDMs has lower ground clearance for local roads. However, he told us that this car doesn't have any issue in this regard.
Seating Capacity
As per the owner, four people can sit in the car comfortably as there is a hump in the middle of backseat. "A child or minor can easily sit in the back," he said.
Salient Features of Toyota Camry Hybrid
The owner told us that the car's interior comes in two colours, i.e., black and beige. Furthermore, it has a Telescopic Steering, Cruise Control, Voice Command, Wireless Charger and Touchscreen Infotainment Screen.
Further, the car has 3 Drive Modes, i.e., Eco, Normal and Sports. "There is a noticeable difference in Sports Mode as car's pick increases and steering become hard," the owner stated.
Lastly, it comes with 6 Airbags, making it a very safe car to travel.
Comparison With Competitors
Honda Accord and Hyundai Sonata are the competitors of Camry. "The comfort, speed, smoothness and build quality of this car is much better than its competitors, especially Sonata," the owner stated. However, there is a huge price difference between Camry and Sonata.
Resale of Toyota Camry Hybrid
As per the owner, the resale of Toyota Camry Hybrid is a bit slower, especially against Audi A6. "People just see the logo of Audi and prefer it, although Camry is much better in performance" he stated.