Toyota Yaris Scores 1 Star in Latin Crash Test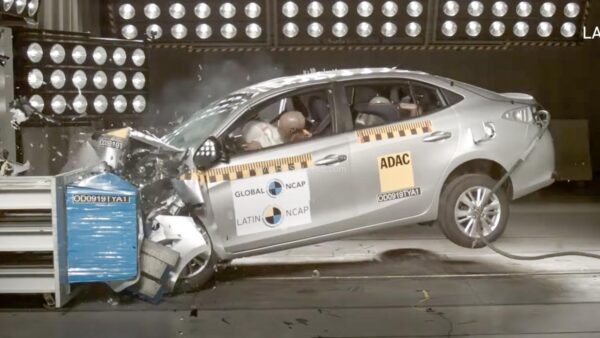 Toyota Yaris, the #1 sedan in Pakistan, went through a crash test in America and scored disappointing numbers. The car performed poorly in the Latin NCAP's car assessment test and got only one star in safety. Yaris is the first Toyota car to score such a low safety rating in the company's history. Shocking news for Toyota fans all over the world.
Toyota Yaris Crash Test 2021
Latin NCAP tested the Toyota Yaris, produced in Brazil and Thailand, with double airbags and Electronic Stability Control (ESC). Here are the results of the famous B-segment sedan's safety test.
41% for the safety of the driver and front passenger
64% for the protection of child passengers in the back seat
62% for the protection of pedestrians
42% for the security systems offered as standard
The Latin NCAP added that the Yaris under testing offered good head and neck protection for the driver and front passenger in frontal impact. For the chest protection, it was only marginal for the driver and good for the front passenger. The car is also marginal for the protection of the driver's knees. The car's floor and cabin were also unstable in the frontal impact test, not supporting higher loads.
Toyota Yaris Crash Test 2019
The same Toyota Yaris passed the Latin NCAP security test in 2019 and received 4 stars. At that time, the organization's car assessment rules were not as strict as they are now. This year, they changed the rules and added a new "moose test" to check the side impacts of a car crash.
Toyota Yaris tested in the Latin NCAP crash test 2021 is the same one we have in Pakistan. The car was launched here in March of 2020 and has now become the best-selling sedan in the country. As per the PAMA report, the company sells 2,500-3,000 units every month. The one-star rating of the Latin NCAP 2021 will surely put a question mark on the car's safety and popularity.