UKhano & His One Wheel – An Electric Love Story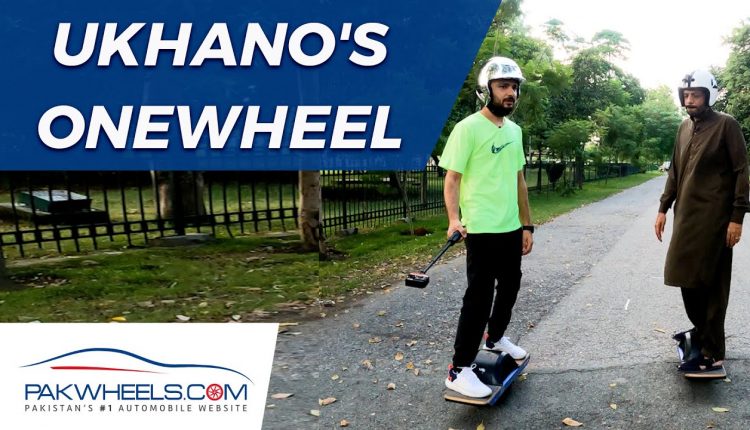 We all know about the travel blogging of Ukhano, but today, we are here with his other love, One Wheel. The machine is kind of like a skateboard but with one giant Wheel in the centre. The One Wheel is battery-charged and can go up to 35-40 km/hour.
Why He Bought It?
Answering the question, Ukhano said that he had a wooden skateboard during his time in NCA. "But you cannot use them on Pakistani roads, and there are no skateboard parks here," he said. And then he found One Wheeler on the internet, researched on it for two years and then imported it. "When I was researching, it was just launched globally in 2018, then one of my friends purchased it and sent it to Dubai, and from there, I imported it in Pakistan," he further explained.
How Did He learn It?
As Ukhano was a skateboarder, so it was not that hard for him. "I just took it out of the box and started using it," he told us.
Price and Charging Time
The machine has a Lithium-Ion battery, and it takes 60 minutes for a single charge. "You can travel up to 40 kilometres, in a single charge" he said. Furthermore, you can check the battery percentage from its App on the phone. "You can also set your riding style and riding mode from the App," Ukhano stated.
And if we talk about the price, the vlogger bought it in around Rs4-lacs back in 2018.
Use on Roads
As per Ukhano, he used this for office commute in Gulberg, Lahore as it was convenient for him compared to booking a car ride. While answering a question about issues with traffic police, he said that the wardens used to stop him to get information about this One Wheel as they were curious about it.
Sharing the experience further, Ukhano said that he rides it in the slow lane, and he had an accident that was his own fault. "Along with roads, you can also use it for off-roading and other rough terrains," he stated.
Community Activities of One Wheel
Ukhano told us that there is a thriving One Wheel community globally. "There are rallies, competitions, and you can also connect with an individuals with this machine near you through its App," he said.
Future of Electric Vehicles & Machines
As per Ukhano, it will take at least 5-6 years to establish a proper setup for Electric Vehicles (EVs) in developing countries like Pakistan. "The future is electric, but I think it will take some time," he said.