Volvo XC40 Recharge Refreshed to Resemble Coupelike C40
Volvo's compact electric crossover gains sharper front-end styling that brings it in line with its sloped-roof C40 Recharge brother.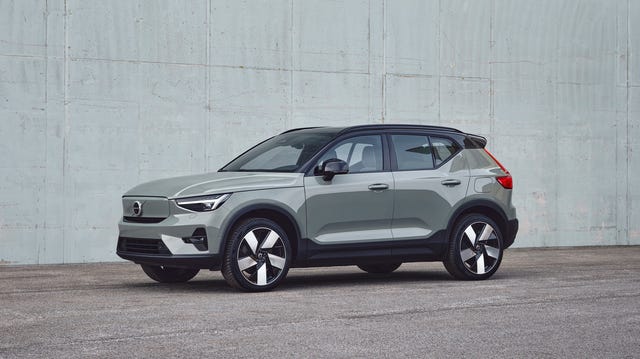 VOLVO
Volvo has facelifted the XC40 Recharge with a new front bumper and triangular headlights similar to the design found on the C40 Recharge.
The C40 Recharge also adds a new single-motor, front-wheel-drive variant.
Volvo won't yet divulge the U.S.-market plans for these models, but said that more information will come in the spring.
Volvo is rapidly moving towards an all-electric future, with news emerging earlier this week of five new EVs coming in the next few years, including two wagon-like "activity vehicles" and a sedan. But before those models arrive, Volvo's first electric vehicle is getting an update, with Volvo announcing today a facelift for the XC40 Recharge that brings its styling in line with the sleeker, coupelike C40 Recharge introduced last year.