Yamaha Introduces Exclusive Rim Stickers for YBR 125G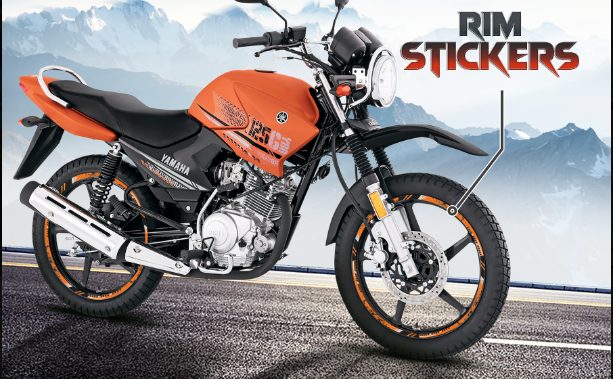 Yamaha Introduces Exclusive Rim Stickers for YBR 125G
Yamaha Motor Pakistan continues its trend of adding vibrant colors and stickers to its bike lineup. Recently, the company unveiled metallic gray for the Yamaha YB 125Z-DX, followed by the introduction of Orange Matt color for the YBR 125G. While we have previously discussed these color updates in our blogs, Yamaha has now taken it a step further with a new addition to the YBR, labeling it as a "revolution" without clear justification for such a claim. The clients can know that Yamaha Introduces Exclusive Rim Stickers for YBR 125G.

Introducing Rim Stickers for YBR 125G
In a social media announcement, Yamaha encouraged its customers to "transform your ride into a work of art with the exclusive rim stickers." However, it should be noted that these stickers are limited to early customers, following the motto "Pehlay Aiye, Pehlay Paiye" (First come, first served).
The accompanying poster exclaimed, "Revolutionize your ride with exclusive rim stickers," but it remains unclear how these stickers bring about a revolution in bike riding. While it is worth mentioning that these rim stickers are a first for Pakistan, some bike experts suggest that they may be reflective and visible at night. Although this update adds to the bike's aesthetics, it falls short of a true revolution. In the automotive industry, revolutions entail advancements in engine technology, increased power, enhanced comfort, and, most importantly, new safety features.
However, it seems that Pakistani companies are primarily focused on changing stickers annually or introducing new colors to their bikes, with little progress beyond that. Unfortunately, these minor updates have driven the prices to levels that are unaffordable for the average person. Yamaha recently raised its prices on May 3, with the YBR 125G now priced at Rs. 410,000.
While the addition of rim stickers may appeal to some customers seeking personalization options, it is important to set realistic expectations and acknowledge that true revolutions in the automotive industry involve substantial advancements and improvements beyond cosmetic changes